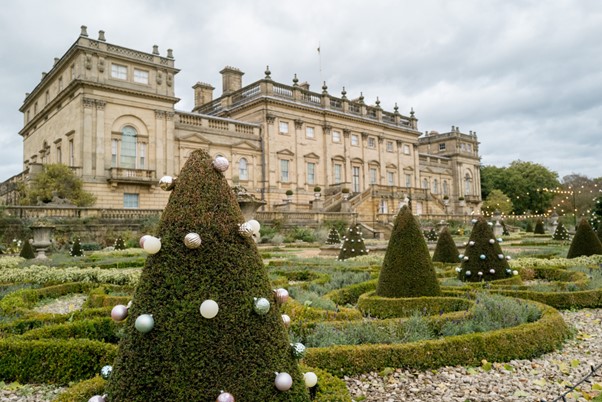 Harewood House announces 'Harewood's Great Time Travelling Christmas'
8 November 2023 – 7 January 2024
Harewood's Great Time Travelling Christmas
8 November 2023–7 January 2024
Prices: Adults £17.50 – £25.00. Child £10.50 – £13.50 (includes access to House and
Gardens)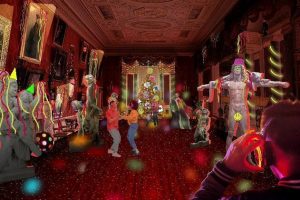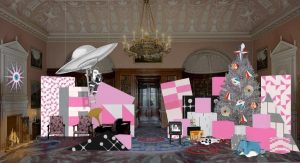 Harewood's Great Time Travelling Christmas renders, credit: Studio Mutt
26 September, 2023 – Leeds. Today, Harewood House announces its Winter Season
opening on 8 November with Harewood's Great Time Travelling Christmas. Visitors will
be transported through Christmases of all eras, evoking the nostalgia of celebrations past,
festive pop culture and imagining a Christmas of the future. Harewood's State Floor will be
transformed with space-race-inspired decorations from the 50s, disco balls and 80s music in
the Music Room, to the remnants of a 90s festive party in the Library. Designed by Studio
Mutt, visitors will also be immersed in a reimagined, futuristic Christmas dinner, with
drone-delivered presents and fluorescent turkeys.
For younger visitors to Harewood this winter, The Adventures of Peppermint (25
November – 24 December) will tell the story of Peppermint the elf, who fell into a magical, icy
world and must be brought back in time to help Father Christmas deliver all the presents.
Alongside these creative experiences, Harewood's programme will also include:
● The Artisan Winter Market (8-12 November) will offer Christmas gift and decoration
inspiration, with a wide range handmade goods and local produce. This will range
from jewellery, crafts, art, candles, skincare, homeware and food and drink.
● Festive Workshops will invite talented makers to Harewood to share their craft, from
watercolour to wreath making, willow weaving, soap making and origami.
Rachel Crewes, CEO of Harewood House Trust said:
"We really do have something for everyone this year at Harewood. Harewood's Great Time
Travelling Christmas is a really different take on Christmas, with heaps of nostalgia and fun.
We're excited to welcome visitors of all ages to Harewood to reminisce in memories of
Christmas past and to imagine what we might expect in the future. Harewood is such a
special place to be during the winter period and we can't wait to welcome everyone for what
is going to be an exciting and unique experience."
Graham Burn, Director of Studio MUTT said:
"We've spent a lot of time thinking about those memorable and nostalgic things that sum up
our Christmases past, and it's not what you'd initially expect. It's the little things, like your
Gran's decorations, the 90s Christmas disco, or sneaking in a drink while your parents
weren't looking. We're really hoping that it will bring a smile to people's faces and to bring
back memories for people."
To book in advance for Christmas events go to harewood.org/whats-on