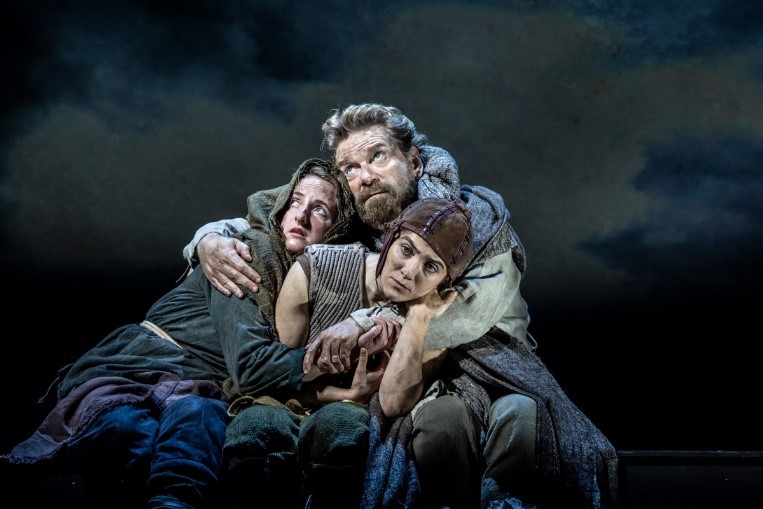 Some shows that have just opened! by GTO Carlie Newman
Photo Johan Persson
KING LEAR
THE TIMETRAVELLER'S WIFE
THE INTERVIEW
King Lear**** (Wyndhams Theatre,London until 9.12 2023)
Perhaps because I was near the front I found both the production and Kenneth Branagh's performance absolutely absorbing. It was really good to watch an actor in his prime. Yes, Branagh is much younger than the usual interpreter of Lear. A little too virile, but otherwise he gives a good characterisation of the King, who is so egotistical that he thinks he can give up his kingdom to his daughters, and still live as he chooses.
Branagh is articulate, and it's good to see and hear an actor who speaks clearly and can always be heard and understood. The set is unusual and gives an almost unworldly aspect to the play. Difficult to watch at times. There are good performances by Jessica Revell who plays both Cordelia and the Fool. I found the speed of the production-it runs for just two hours-to be exhilarating.
The Time Traveller's Wife****(Apollo Theatre, London, until 30.3.24)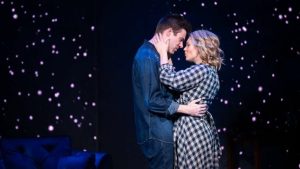 Photo Art Clausen
Based on Audrey Niffenegger's book, the story of Henry (David Hunter), who periodically disappears, is a really fascinating tale. He is a time traveller and when he meets Clare (Joanna Woodward) and then marries her he has the conflict of loving his wife, wanting to be with her, and being pulled away, often for short or long times. Meanwhile Clare has to cope with being left by her loving husband to live for long periods alone.
Very difficult to put on stage, director, Bill Buckhurst has managed to depict the coming and going of the time traveller with the use of illusions and excellent lighting. It has been turned into a musical, but unfortunately the pop songs don't really add anything to the story.  The production gives heart to the couple, and we can believe both of them to a large extent. The time traveller's journey is worth you travelling to it.
The Interview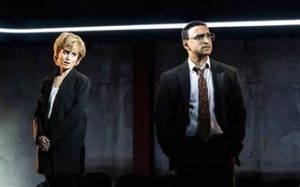 Photo Pamela Raith
at the small Park Theatre, London (until 25.11.23) shows us the imagined conversations between Princess Diana (here played by Yolanda Kettle) and Martin Bashir (Tibu Fortes) as he persuades the Princess to agree to a televised BBC interview with him. She agrees partly through seeing cheques given to people who have informed on her- these are later proved to be forged. Although we all know both the background and the aftermath of the BBC interview nevertheless it is interesting to see playwright Jonathan Maitland's take on the televised interview.
We see Bashir praised for the interview and Diana become something of an icon as a result. However, years later, when the true circumstances surrounding the interview come to light Bashir is vilified. Kettle   has caught the spirit of Diana but doesn't quite pull off the special look she had. The actor playing Paul Burrell, Matthew Flynn, looks very much like him, and he comes across really well. An absorbing play well presented.