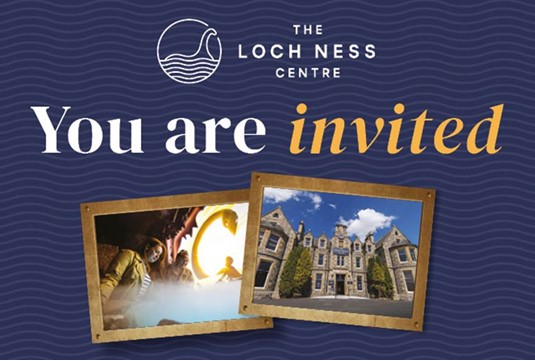 The Loch Ness Centre DeepScan Cruise and Drum Hotel
In celebration of the reopening and extensive refurbishment of The Loch Ness Centre, we and our neighbours at Cobbs, are delighted to invite you to an unforgettable networking experience at the recently unveiled attraction.
This presents a great opportunity for the destination to showcase our offerings and engage in discussions concerning how we can cater to the needs of your clients in the future.
You will be welcomed with a cup of tea or coffee at the Drum Hotel, and after a brief introduction talk, you will be escorted to The Loch Ness Centre for an exclusive tour and your cruise on the Loch aboard DeepScan.
An exquisite lunch, courtesy of Cobbs, will be awaiting you back at the Drum Hotel. During this time, you'll have the chance to meet both of our teams, representing Continuum Loch Ness and Cobbs. This setting will provide you with the opportunity to connect and network with fellow guests hailing from the tourism industry.
We have planned the visits for two dates, namely the 27th and 28th of September. On each of these days, there will be a morning tour as well as an afternoon one.
The Loch Ness Centre, DeepScan Cruise and Drum Hotel
Date: September 27th/28th 2023
Time: 10.00 and 13.00 (Tours departing at 11.00 &14.00)
Where: Drum Hotel Loch Ness