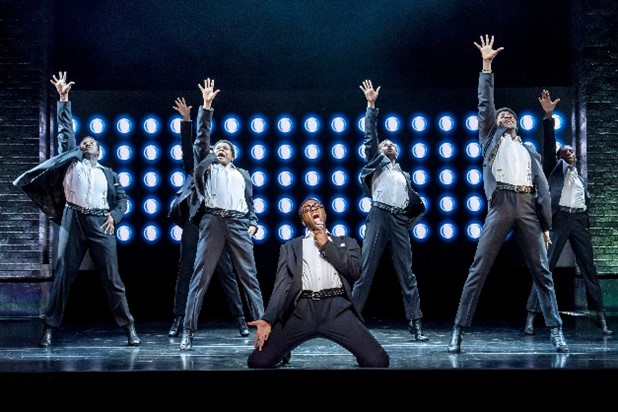 Theatre Tip: AIN'T TOO PROUD: The Life and Times of The Temptations by Carlie Newman
Great for a group outing…
AIN'T TOO PROUD: The Life and Times of The Temptations at the Prince Edward Theatre (booking until 7 January 2024. Group sales: 0344 482 5100)
AIN'T TOO PROUD is a perfect show for groups. Always fascinating, it tells the story of The Temptations, and tells how the musical group became such a worldwide success.
I'm not really a fan of juke-box musicals but this one is such a well-told story that is presented with such a belief in its personnel that I fell for it. Narrated by Otis Williams (Sifiso Mazibuko), it tells how the group first formed in Detroit in 1961and in spite of a series of bad behaviour by some of the members followed by many changes to the line-up, they became a great success story.
A good cast puts across the well-known songs, including My Girl, Since I Lost My Baby, Shout with verve and well-timed synchronicity and there is some expert choreography. At the end, join in the wild applause! On opening night, the real Otis Williams joined the cast to take a bow.
If you are looking for an enjoyable show to take your groups too, you won't go wrong with Ain't Too Proud.  It's a superbly produced and directed show, with well-drilled choreography and some great musicianship on display.
Although THE UNFRIEND****at the Criterion Theatre, London has just closed there, it is looking for another theatre to continue performances.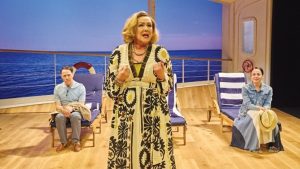 Reece Shearsmith as Peter, Amanda Abbington as Debbie and Frances Barber as Elsa. Credit: Manuel Harlan
It's a lot of fun and should be able to continue attracting audiences.
It is based on a true story of an encounter between an English couple (Reece Sheersmith and Amanda Abingon at the Criterion) and an American woman (outrageously over-acting Frances Barber), who they meet on a cruise ship. When she invites herself to their home, they look her up on the internet and discover she has been convicted of a killing.  She actually arrives at their home and – being British – they are too polite to tell her to go!
Amazingly, I sat next to the man whose real-life story this is based on! It happened as in the play except that the real couple managed to put off their American serial killer before she actually arrived!
It's a comic-thriller and deserves to be seen more widely.  Keep an eye out and grab tickets when it arrives!
One that is definitely returning is the wonderful STANDING AT THE SKY'S EDGE, which played to packed houses in the National Theatre.  It's a great musical showing the lives of some of those who lived on an estate in Sheffield. Spanning a number of years, it has lovely songs, beautifully sung in a very well-designed set. You can book now for the Gillian Lynne Theatre, London, February 2024.