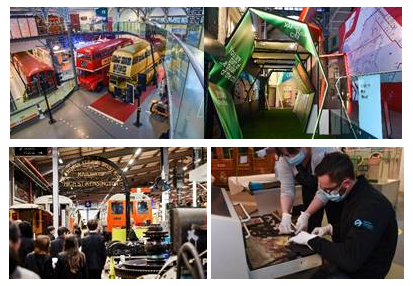 £450,000 to secure London Transport Museum's future
London Transport Museum has received £450,000 from the Government's Culture Recovery Fund to boost its long-term recovery after being closed for 355 days. It is one of 925 recipients to receive a share of more than £100 million in the latest round of support, the Culture Secretary has announced today.
The £450,000 grant, administered by Arts Council England, will mean London Transport Museum can invest in new programming and grow its commercial activity. It will help fund the creation of its new exhibition Legacies: London Transport's Caribbean Workforce, continue the delivery of its learning programmes and support the ongoing relaunch of the Museum's successful Hidden London tours.
Prior to the pandemic, London Transport Museum generated 80 percent of its own income. When the lockdown forced it to close, the Covent Garden venue took a huge financial hit. Since reopening in May 2021, it has welcomed back around 68 per cent of its pre-pandemic visitor numbers, but with international travel and tourism still limited the Museum's long-term recovery remains fragile.
Rebuilding its long-term sustainability is vital to the Museum's work as an education and heritage charity. It will ensure the ongoing preservation of its historic collection and delivery of its learning programmes. This includes its Climate Crossroads initiative to promote a greener future for the Capital and its Enjoyment to Employment scheme.
In collaboration with industry partners, Enjoyment to Employment inspires young people to pursue transport and engineering careers. It offers interactive STEM workshops for schools and introduces pupils to real-world engineers. It also provides young Londoners with free employability training and supports them to secure transport apprenticeships and jobs.
Sam Mullins OBE, Director of London Transport Museum, said: 'We're incredibly grateful to DCMS and the Arts Council for standing by London Transport Museum, which captures the story of the vital role public transport has always played in shaping London and keeping the city moving. As we plan for the year ahead, this new Culture Recovery Fund grant is supporting a truly sustainable recovery. It will see us continue to re-build after the devastating impact of the pandemic and invest in new programming. When cultural attractions reopened earlier this year it signalled brighter times ahead. Their ongoing recovery is critical to our towns and city centres, as well as the wider UK economy and the country's wellbeing.'
Over £1.2 billion has already been awarded from the unprecedented Culture Recovery Fund. This is supporting around 5000 individual organisations and sites across the country ranging from local museums to West End theatres, grassroots music venues to festivals, and organisations in the cultural and heritage supply-chains.
Culture Secretary Nadine Dorries said: 'Culture is for everyone and should therefore be accessible to everyone, no matter who they are and where they're from. Through unprecedented government financial support, the Culture Recovery Fund is supporting arts and cultural organisations so they can continue to bring culture to communities the length and breadth of the country, supporting jobs, boosting local economies and inspiring people.'
Darren Henley, Chief Executive, Arts Council England, said: 'This continued investment from the Government on an unprecedented scale means our theatres, galleries, music venues, museums and arts centres can carry on playing their part in bringing visitors back to our high streets, helping to drive economic growth, boosting community pride and promoting good health. It's a massive vote of confidence in the role our cultural organisations play in helping us all to lead happier lives.'
On 11 February 2022, London Transport Museum's brand-new exhibition Legacies: London Transport's Caribbean Workforce will open. This celebrates the contribution people of Caribbean descent have made to London's transport history and present-day London. Visitors will discover stories and memories from first, second and third generation Caribbean people, from those who worked for London Transport in the 1950s and 1960s to today's employees. New films, archive images, historic advertising posters, and never-before-displayed objects will be on show.
Book timed entry tickets to visit London Transport Museum online ltmuseum.co.uk