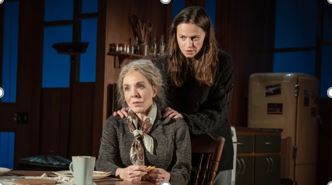 Theatre tips! 'NIGHT MOTHER A MEMORY OF WATER MALINDADZIMU
'NIGHT MOTHER**** (Hampstead Theatre, London until 4 December. Box office: 020 7722 9301)
Great to see Stockard Channing starring in a play at the Hampstead Theatre. Sad to spend a very depressing evening watching it.
Following on from the well-written and very well acted MEMORY OF WATER, which looked at a family dealing with the death of their mother and planning her funeral. A mixture of humour and drama saw the three sisters in the cast – Lucy Black, Laura Rogers and Caroline Main – along with two partners, deal with their own emotions at the loss of their mother and talk about memories of the past when they were all young.
And at the Downstairs Studio there was the rather strange MALINDADZIMU. Playwright Mufaro Makubika had us following a mother and daughter from Nottingham to the mother's roots in Zimbabwe.  Taking in the relationship between the mother and daughter and bringing in their spiritual ancestors, there are some extraordinary visual scenes and an opportunity to showcase the acting talents of Shyko Amos as the mother and Kudzai Mangombe as her daughter.
And now Hampstead has 'NIGHT MOTHER, showing the relationship between a mother, Thelma (Stockard Channing) and her daughter, Jessie (Rebecca Night).  It's a very special night – in fact the last for Jessie – who tells her mother that she is going to commit suicide. As she cleans her father's guns and prepares to load the new bullets she has bought, she calmly goes through a list of shopping and actions that her mother has to undertake in the future after she has gone.
Thelma is shocked to hear her daughter wants to end her life – angrily she confronts Jessie and then pleads with her, desperately trying to get her to change her mind.  During the conversations on stage, all of which take place in real time (and there is no interval in this nail-biting evening), we learn that Jessie has suffered from seizures or 'fits' all her life and that possibly her father who has recently died, did so too.  Thelma has found it hard to admit to others that her daughter has epilepsy because of the stigma attached to it.  Jessie's husband has left her and her son is into crime and drugs.
Jessie is determined to die; she has worked everything out and has decided that now is exactly the right time to end it all.  She will say 'night mother, go into her room, lock the door and then shoot herself.  Jessie tells Thelma how she must act, who to telephone and how to live without her in the future.
While the writing is somewhat dated, the two actresses can hardly be faulted, Night gives a quiet well-thought through performance as a young woman without social skills, living a lonely, isolated life.  While Stockard, with a lovey musical voice, shows a mother who while fighting to save her daughter, gradually releases that Jessie means what she says and that she will shortly lose her daughter.
But this revival of Marsha Normans's 1983 Pulitzer Prize-winning play is a difficult watch and many in the audience were profoundly moved by what was happening on stage.  In fact, it is so depressing that on the wall of the Foyer is a list of organisations to contact for help with suicide related matters.
Carlie Newman