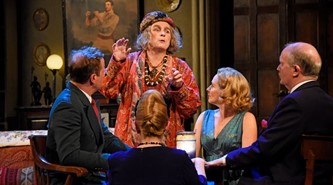 Theatre tips! BLITHE SPIRIT
BLITHE SPIRIT
A PLACE FOR WE
 BLITHE SPIRIT*** (Harold Pinter Theatre, London until 9 November. Box office: 020 7321 5305)
The exuberance and stage presence of Jennifer Saunders in Noel Coward's lovely comedy, makes this worth catching. She plays Madame Arcati, a medium who has been asked to the house of Charles (Geoffrey Streatfeild) who is interested in her psychic talent.
He and his wife, Ruth (Lisa Dillon) invite her to a dinner party with his friends Dr and Mrs Bradman (Simon Coates, Lucy Robinson). In the séance, Madame Arcati summons up Elvira (Madeleine Mantock), the dead wife of Charles.   She causes havoc with his present wife as only Charles can see and hear her. The rest of the play is taken up with Charles trying to get rid of his former wife.
Although director Richard Eyre tries hard to keep the play light and amusing, it doesn't always work. Ruth quickly becomes shrieking and remains at high pitch.
There is a lively Elvira from Madeleine Mantock and a super maid, Edith (Rose Wardlaw) who com s into her own at the end.  Geoffrey Streatfeild inhabits the beleaguered husband of the two women very well. But most people will come for Jennifer Saunders and they will not be disappointed.  She gets into her character and gives a rounded, hugely amusing performance.
A PLACE FOR WE**** (Park Theatre, London until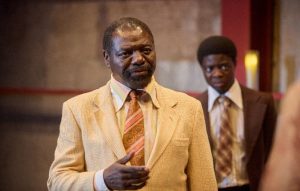 Photo: Mark Douet
Following the history of one building in Brixton, London, from 1971 to 2021, the play deals with continuity, relationships, gentrification of an area, tradition and change.  It is divided into 3 segments.
It begins with Clarence (David Webber) who will not change his way of doing business.  He runs a  funeral parlour, Nine Nights, a traditional West Indian undertakers serving Brixton's West Indian heritage residents. In the tradition, nine nights is the time it takes for the spirit to depart. He has less business as the area changes from a predominantly West Indian community to a more mixed population.  His son, Keron (Laurence Ubong Williams) urges him to expand into a wider market but Clarence refuses.
The next scene is set 50 years before and we meet Clarence's father, Elmorn (David Webber), who, in 1971, buys premises from a pub owner.  George (Blake Austin), the pub owner, who, alongside his wife, Anna (Joanna Horton) is reluctant to leave the pub where their small child died, is packing up to leave when Elmorn and his son, young Clarence (Harold Addo) arrive to check out their new place.  Run by generations of the same family, the pub has to change with the times.
The final scene has the premises turned back into a kind of pub.  But this time around the pub is called an enoteca, a new kind of wine bar.  An elderly Clarence (David Webber again) doesn't really understand what is happening.  Times have changed again the people living in the area are different from when Clarence ran his business in the same premises.
Director, Michael Buffong brings pace to the somewhat long play and the three sets show exactly where we are in each scene.  The group of actors take on different roles and manage to give each one special characteristics.  A well-written play, it brings history to life and gives us an understanding of how different communities manage change and moving forward in life.
Carlie Newman