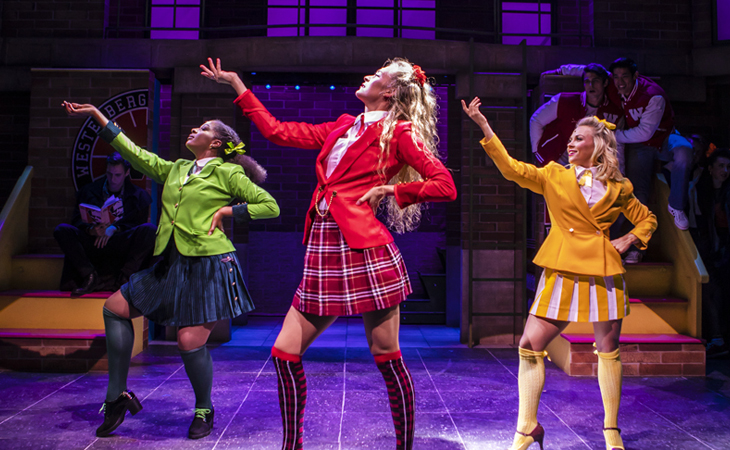 Musical Theatre Tips from AGTO
Hairspray
*****
London Coliseum
Until 29 September 2021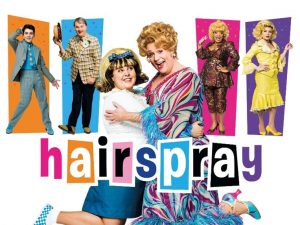 Another musical that began life as a film: Hairspray is based on the 1988 John Waters' film. It was originally on in 2007 with Michael Ball as Edna. I attended the launch of this new production in February 2020 and, at that time, we had Paul Merton as Edna's husband. Owing to a number of postponements of the opening date, the part has now been taken over by Les Dennis, as Merton is no longer available.
Tracy Turnblad (Lizzie Bea) is a large girl who dreams of stardom. At first, her loud mother, Edna (Michael Ball) thinks she can't make it and then she and her husband, joke shop owner Wilbur (Les Dennis, back her.
Hairspray is set in 1962 when racial segregation was still happening in many parts of America. Tracy and her friend are against this and through her work on the TV show she fights for it to be abolished. She comes up against Velma Von Tussle (Rita Simons), a very aggressive, bigoted woman who pushes her daughter Amber (Georgia Anderson) forward at every opportunity.
Marisha Wallace plays Motormouth Maybelle who has a couple of emotional songs concerning the racial barriers that her son, Seaweed (Ashley Samuels) and his white girlfriend Penny (Mari McGinlay) will face.
Tracy falls for Link Larkin (Jonny Amies) and continues her battle to bring all teenagers of whatever colour together.
Michael Ball is just terrific as Edna – not only can he deliver a song but he is a really good actor and gives his character true meaning. Lizzie Bea makes a wonderful Tracy Turnblad. She has a good voice and the sass to go with it, and she looks just right with her bang-on beehive hairstyle which, obviously, needs lots of hairspray! The trendy costumes seem authentically 1960s.
Wallace had a mid-show standing ovation for her moving rendition of "I know where I've been," her solo spot. There was just not enough of Wallace as she is very fine artist.
This is a lovely, lively well-sung and acted show under the enthusiastic direction of Jack O'Brien and worthy of its five stars. Michael Ball summed up the feelings of the audience during the curtain call on opening night:
"There are a thousand of you here. There should be three [thousand], and you've made the noise of ten!"
AMELIE The Musical
****
Criterion Theatre, London,
booking until 25 September 2021
Box Office: 020 7839 8811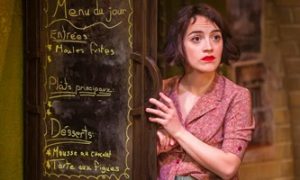 I first saw Amelie The Musical when it was on at The Other Palace at the end of 2019. The musical is based on the 2001 film. Now it is at the Criterion Theatre, London and is as impressive as at the original showing.
Amelie Poulain (played again by the lovely Audrey Brisson) is as charming as ever. She organises little touches of joy in the lives of those around her. Amelie manages this unobtrusively so that her friends don't even realise that what she has done.
Director Michael Fentiman manages Amelie's journey alongside the most gifted set of actors/musicians since the wondrous Once. Fentiman is greatly helped by the ingenious set which transforms quickly and easily from a bistro to Amelie's attic room, which she reaches by holding on to a lampshade which lifts her up to her room. The various places shown all have a real Parisian feel.
We first meet the child Amelie as a puppet who witnesses her mother's death. Later she leaves home and becomes a waitress in 1975 Paris. Here she helps those who are lonely or suffering from unrequited love. Amelie, herself, falls in love with Nino (Chris Jared), who is obsessed with photo booths.
The music – all played by the actors on stage – is mostly very jolly and excellently played by the actor-musicians who at times rather swamp the stage, which is somewhat smaller than the one at the Other Palace.
The French accents and very particular charm and interpretation by Brisson give the musical a touch of real authenticity.
I asked film critic Matthew Turner, who accompanied me and is a fan of the film what he made of the show. Here is his response: "I thought the play was a terrific adaptation of the film. I particularly enjoyed the imaginative staging and the way the actors all played instruments on stage. I thought the songs worked well, although I missed the music from the score – it's a shame that couldn't have been incorporated in some way, even if it was just as music played during the interval. Overall, I thought the whole thing was very charming, with strong performances from the lead and the supporting cast in the cafe.
I also liked how the play incorporated lots of little moments you'd only spot if you were a big fan of the film, particularly the moment with the raspberries.
Also, it was wonderful to be in the theatre again, the significance of which was acknowledged by the cast during the curtain call, making it an extra special occasion."
HEATHERS the musical
****
Theatre Royal Haymarket
Until 11th September 2021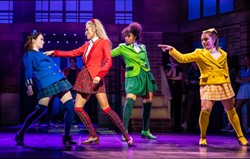 It's 1989 and we are at Westerberg High School. New girl Veronica (Christina Bennington) goes all out to become part of a small group of three nasty very close friends all called Heather. They are distinguished by the different colour clothes they wear. Heather Chandler (Jodie Steele), Heather Duke (Bobbie Little) Heather McNamara (Myli McCann) in red, green and yellow.
When Veronica becomes friendly with JD (Jordan Luke Gage – on a break from & Juliet) the musical becomes altogether darker as JD sets about organising killings.
But in spite of some dark moments including an almost date rape scene, director Andy Fickman manages to give us a quite jolly show! The killings are presented as suicides to the press until Veronica bravely manages to change the story.
There is a good little performance by Madison Swan as Martha, Veronica's former best friend who she now neglects in favour of her three new Heather friends.
The real stars are Veronica and the Heathers. All four perform well and put across the songs – which are sometimes repetitive – with charm and enthusiasm. The rock musical is based on the 1989 film and reminds me of the music of & Juliet.
Carlie Newman