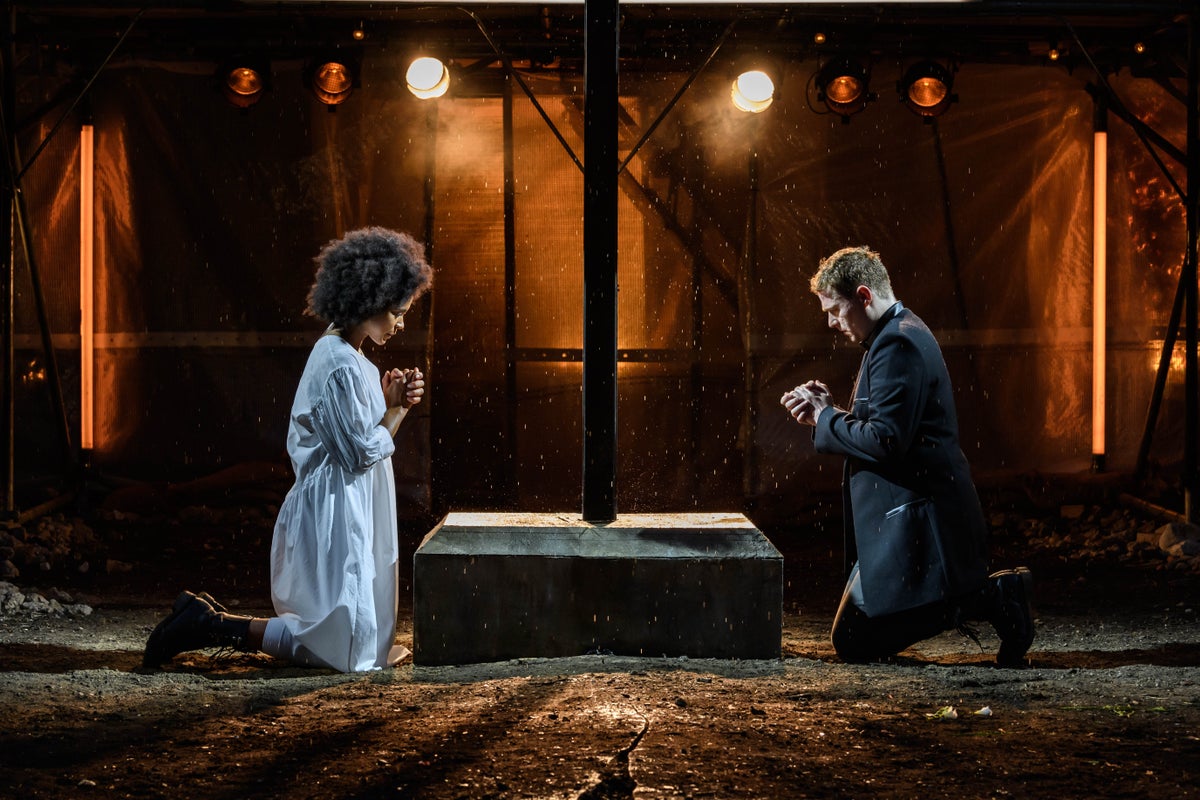 Well, it's good to announce that theatres are really opening up. Many more in London and around the UK have realised that they need to open now or very shortly even if it means playing in a socially distanced way at under 50% capacity.
RAYA
****
Hampstead Theatre Downstairs, London
Until 24 July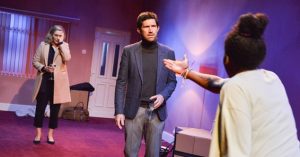 One of the best things about this new play in the Studio theatre at Hampstead, is the discussion on the menopause. It is good to see one of the troubling aspects of women's lives referred to in a mature way.
Following a re-union of University students, Alex (Claire Price) goes back with Alex (Bo Paraj) to his student lodgings. He is emptying the lodgings which have been rented, in preparation for selling it. The pair had a relationship 30 years previously and Claire is keen to re-ignite the sexual chemistry. Alex, however, holds back and it is not clear why until the end of the play. As they explore their past lives, with different memories from each of them, a third person appears. She is Alannah (Shannon Hayes), a student who used to live in the house. She has broken in as she needs somewhere to stay and believes it to be empty. Alannah had formed a relationship with Alex's wife, Raya, although never met her as they communicated on-line. She mistakes Alex for Raya and both Alex and Jason go along with the mistake.
A generally on point script by Deborah Bruce occasionally over does the explanatory elements but much of the dialogue is realistically put across and always intriguing. Absolutely real is the depiction of Alex's menstrual problems. Director, Roxana Silbert captures the relationship between the two in an at times humorous manner. There is a surprising twist at the end.
Good, simple set with effective lighting.
Nicely acted by all the cast, there is an obvious chemistry between the two main characters and both Price and Paraj fit their parts and portray the middle- aged couple re-uniting well.
ROMEO & JULIET
****
until 24 July
Open Air Theatre in Regent's Park, London.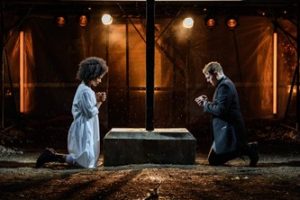 On a beautifully warm sunny day there is nowhere better to be than at the Open Air Theatre in Regent's Park, London. ROMEO AND JULIET is a good play to see at this theatre and at the present time when teenagers are being thwarted of their natural pursuits while they are locked at home.
And it's a very young Juliet here – she is said to be nearly 14 and although serious, we can believe in the age of Isabel Adomakoh who plays Juliet. More carefree is her Romeo (Joel MacCormack) in this modern production under the direction of Kimberley Sykes. Sykes brings out the speed in which the two young people fall in love. We can believe in this too as the two lock eyes and are very obviously smitten with one another. Good that both speak clearly so that we can always understand what they are saying – not always the case in modernised Shakespearean productions.
The two sides are distinguished by their costumes: Montague in white and Capulet in black. The nurse is well characterised by Emma Cuniffe, who although a chatterbox, seems to really love Juliet. Tybalt becomes a female as does Benvolio (now called Benvolia) – doesn't seem any real reason to make them women other than to give the actresses good parts!
The set is made up of an elaborate scaffold and the young actors run up and down. Quirky costumes provide a different view from the traditional one and the fires around the tomb look most impressive. It's great to have the play run through in under two hours. No interval to disturb the momentum and finished before it was even completely dark!
J'OUVERT
****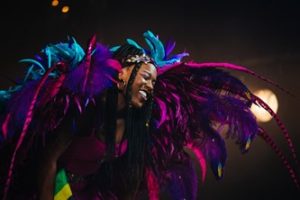 While J'OUVERT is now closed at the Harold Pinter Theatre, London but it can still be seen at Theatre Royal Nottingham 21-24 July 2021. It is also available to watch now and for the next 9 months on the BBC Lights Up so more people will be able to get to see the production on screen.
With just three actors plus a DJ playing loud carnival music (sometimes too loud to hear the dialogue properly!), we find ourselves in the middle of the Notting Hill Carnival in London. The atmosphere is brought to the stage in such a manner that we really feel we are seeing a small part of the exciting event.
Meeting Jade (Saphire Joy) and Nadine (Sharla Smith) in colourful carnival costumes, we learn a little of their lives as Black Britons. While Nadine is keen to win a prize for dancing and a magazine shoot at the festival, Jade is more political and when they are joined by Neisha (Annice Boparai), an Asian girl who tries to integrate into the lives of the Afro-Caribbean friends, we get a glimpse of their interactions with men around them. The women act the parts of the men, often in hilarious scenes. As we watch the friends, we begin to understand something of the sexual politics that young women have to contend with.
Using the ghost of past people associated with Carnival, in particular Claudia Jones the founder, writer Yasmin Joseph brings the festival to life,
ably assisted by director Rebekah Murrell who interprets the play with dramatic effect.
The audience enthusiastically joined in at the socially distanced performance I attended. Even fully masked they managed to clap and cheer as the young women danced in true carnival style. Lively and most joyful, try to see and enjoy!
Carlie Newman