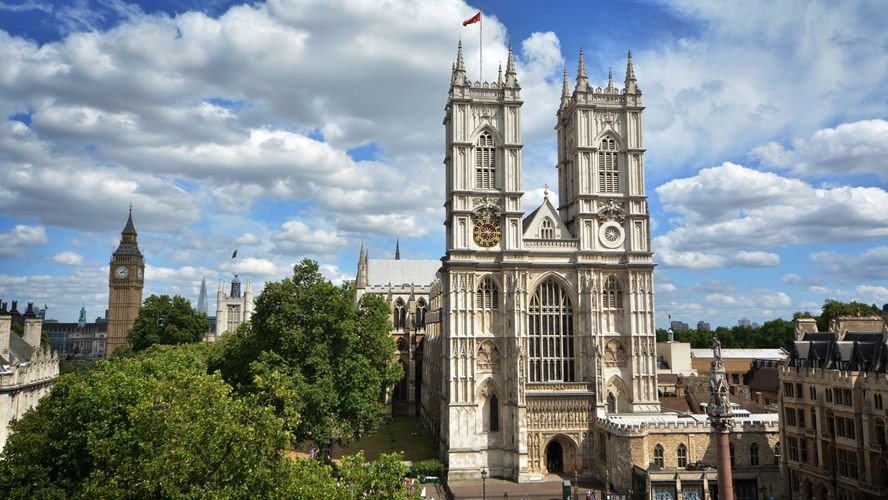 May brings news of exciting summer events and activities as we look forward to the Coronation of Their Majesties The King and Queen Consort.
We have also announced our special Coronation events – everything from the Coronation Exhibition and Afternoon Tea to Wednesday Late opening!
Read on to find out what else is happening at Westminster Abbey in the month ahead. We look forward to welcoming you soon.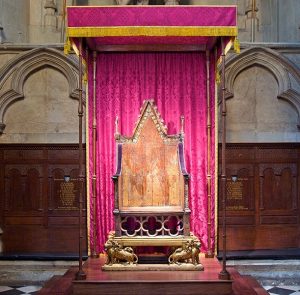 Coronation Theatre
Location: The Abbey
Date: Monday 8th – Saturday 13th May
Time: Times vary
Tickets: £12 – £27
For a limited time only, come and see the Coronation Theatre on a special self-guided tour around the Abbey.
On this tour you will be able to view the Coronation Theatre from the Abbey's North and South Transepts.
Entry will include seeing key elements from the Coronation Service including the Coronation Chair in position on the Cosmati Pavement, where His Majesty The King will be crowned.
Your self-led tour will also include the:
Lady Chapel
Cloisters
Pyx Chamber
Nave
Abbey gardens (except on Saturday)
Queen's Diamond Jubilee Galleries (£5 per adult, children under 18 years free)
Included in your entry will be a self-guided map featuring highlights around the Abbey.
As this is a special route for the Coronation Theatre, multimedia guides will not be available for this visit.
Please note that the Crown Jewels will not be on display.
Please buy your tickets in advance.
We will have a very limited number of tickets to purchase on the door.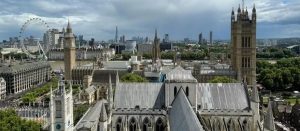 Koinonia Lecture: From contested to connected
Location: St Margaret's Church
Date: Tuesday 9th May
Time: 6:15pm – 7:15pm
Tickets: Free (booking required)
An academic seminar presented as part of the Koinonia lecture series
Renie Choy, Associate Lecturer in Church History, Westcott House, presents her latest research on the theme of From Contested to Connected: The Value of Widening Engagement with the Church of England's Cultural Heritage.
The event is part of the Koinonia lectures for 2022-23, co-organised by Westminster Abbey, the Diocese of London and St Paul's Cathedral, offering an opportunity to engage with the latest research from a wide range of theological and ecclesiological thinkers.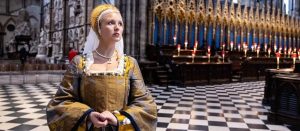 Abbey Late: Crowns, coronations and creativity
Location: The Abbey
Date: Wednesday 17th May
Time: 4:30pm – 7:00pm
Tickets: £6 – £13 (Included in the price of admission)
Join us in the coronation church for an interactive evening of storytelling, poetry and crafts.
Explore the Abbey's royal connections in this celebratory coronation year. Hear stories from the kings and queens of the past, make your own family seal and celebrate all things monarchy and get a closer look at the crown jewels.
Costumed performers will be roaming about the Abbey, giving everyone a chance to meet a monarch in person. Throughout the night the monarchs will tell interesting stories from their lifetime.
All evening we'll be joined by a poet who will be discussing with visitors what monarchy means to them. They will create a poem from the conversations they have which will form part of our reflections of the coronation year.
The National Archives will be on hand to show you how to make your own personalised family seal.
Take a closer look at the handling collection of crown jewels at our sensory table of crowns, orbs and sceptres. Have all of your questions answered about how these regal symbols came to be.
Last entry is at 6.00pm, but the Abbey will remain open until 7.00pm.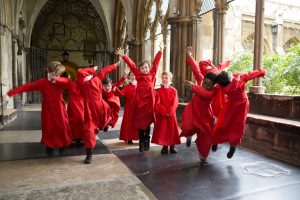 Chorister Experience Day
Location: The Abbey
Date: Saturday 20th May
Time: 10:00am – 4:00pm
Tickets: Free (booking required)
If you know a boy aged 6 – 8 who loves to sing, our Chorister Experience Day is a great way to find out what it's like to be an Abbey chorister.
Our choristers enjoy an outstanding education at the Abbey Choir School, coupled with specialist musical training and the wealth of performance opportunities which come with being a member of the Abbey's world-famous choir.
Come behind the scenes at our Chorister Experience Day to find out more. A love of singing and an enthusiasm for music are all that is required; no formal training is necessary.
The day will include the opportunity for boys currently in Year 2 or 3 to:
Join the choir in a rehearsal
Enjoy a behind-the-scenes tour of the Abbey
Sing in the world-famous Abbey Choir at Evensong
Take home a certificate and goody bag
FIND OUT MORE AND BOOK YOUR TICKETS HERE
From Black Theology to Black Lives Matter and Back Again Lecture
Location: St Margaret's Church
Date: Thursday 25th May
Time: 6:30pm – 7:45pm
Tickets: Free (booking required)
Professor Anthony Reddie, Director of the Oxford Centre for Religion and Culture, gives the annual Eric Symes Abbott Memorial Lecture.
Professor Anthony G. Reddie is the Director of the Oxford Centre for Religion and Culture in Regent's Park College, in the University of Oxford. He is also an Extraordinary Professor of Theological Ethics and a Research Fellow with the University of South Africa.
He is a leading international researcher, and the first Black person to get an 'A' rating in Theology and Religious studies in the South African National Research Foundation.
He is a prolific author of books, articles and chapters in edited books. He is the Editor of Black Theology: An International Journal. He is a recipient of the Archbishop of Canterbury's 2020 Lambeth, Lanfranc Award for Education and Scholarship, given for 'exceptional and sustained contribution to Black Theology in Britain and Beyond'.
The lectures are given in memory of Dean Eric Symes Abbott (1906-1983), who was at various times Dean of King's College London, Warden of Lincoln Theological College, Warden of Keble College Oxford, and Dean of Westminster. The Eric Symes Abbott Memorial Fund was endowed after his death by his friends to provide for an annual lecture on spirituality and pastoral theology.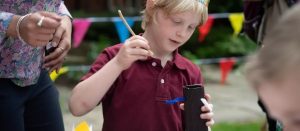 Family Day: Coronation celebration garden party
Location: College Garden
Date: Saturday 27th May
Time: 10:00am – 2:00pm
Tickets: Free
Join us in the beautiful College Garden for a Coronation celebration, overflowing with free family activities in England's oldest garden.
Bring a picnic and join us to celebrate the Coronation of Their Majesties The King and The Queen.
In our beautiful walled garden, you can:
design and make your own crown inspired by the Coronation Regalia
be regaled by tales of jewels and gems by storyteller Olivia Armstrong
take a 'Sovereign Selfie'
go on a tremendous treasure hunt
get the party started with our friends from St Paul's Cathedral
create a Perfect Portrait with the Society of Antiquaries
enjoy the tranquility of the 900 year old College Garden
All children and their grown-ups are invited!
Activities are suitable for children aged 3+ and younger children are welcome.
All children must be accompanied by an adult throughout their time at the Abbey.
Toilets and baby changing facilities are available in the Cloisters.
This event happens exclusively within College Garden and entrance is via Dean's Yard.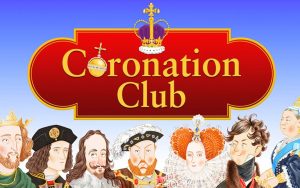 Coronation Club
As the Coronation of Their Majesties The King and The Queen Consort draws ever nearer, we have put together a set of digital resources to guide our audiences through the service on 6th May.
Videos
A series of Spotlight on Coronations videos takes a look the key objects and spaces that are essential to coronations, guided by Abbey experts. You can watch the films – on the Coronation theatre, the Liber Regalis, the order of service, the Coronation Chair, the ampulla and spoon, coronation music, and the royal regalia – on the Abbey website.
Specially-commissioned videos on the conservation of the Coronation Chair and the history of Cosmati Pavement, and a series of short films detailing stories from 10 different coronations, will be published in the next few days.
Online articles
Readers wanting to explore the coronation in more depth can enjoy a series of online articles.
From detailed looks at the history of coronations and the religious significance of the coronation service, to stories of the kings and queens crowned in the Abbey and the fascinating history of the Coronation Chair, all of the articles are also available on the website.
Coronation Club
For younger audiences, an online Coronation Club has been launched with a series of videos to inspire children aged 7 – 11 to find out more about what happens at a coronation service and why. Designed to be used in schools, youth groups and at home with families, the episodes bring viewers behind the scenes at the Abbey, with stories of coronations past, games, challenges, crafts and quizzes. Each episode is also accompanied by an activity pack with resources to support the topics covered in the films.
Afternoon Tea at the Cellarium
Location: The Cellarium Café and Terrace
Date: 8th May – 31st July (not available on Sundays)
Time: 12:00pm – 3:00pm
Enjoy a selection of savoury snacks and sweet treats ahead of this year's Coronation.
Our afternoon tea is influenced by The King's passion for sustainability, using British sourced ingredients to provide a refined balance of fresh, seasonal, sweet and savoury items.
Toilets and baby changing facilities are available in the Cloisters.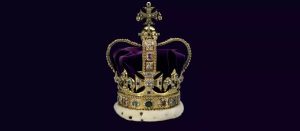 Coronation Exhibition
Location: Chapter House
Date: 11th April – 30th September
Time: See visitor opening times
Tickets: Included in the price of admission
Westminster Abbey is the nation's Coronation Church and this new exhibition in the Chapter House will reveal the key elements of the royal ceremony which has taken place at the Abbey for nearly a thousand years.
Featuring historic illustrations and archive photography, this exhibition is for anyone who would like to find out what a coronation is and to understand its ceremonial, regalia and objects.
FIND OUT MORE AND BOOK YOUR TICKETS HERE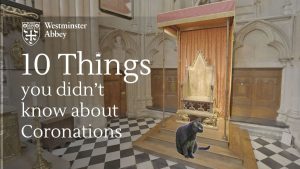 10 Things You Didn't Know About Coronations at Westminster Abbey
A cat, a bat, an earthquake and even a banned Queen Consort have all made an appearance at previous coronation ceremonies.
Find out about some of the interesting and unexpected things that have happened during previous coronations at Westminster Abbey.
We've hosted them for over 1,000 years.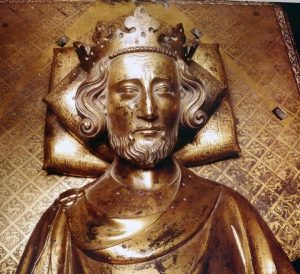 DID YOU KNOW…?
Henry III was born at Winchester Castle on 1st October 1207, eldest son of King John and Isabella. He succeeded his father in 1216. His was one of the longest reigns in English history.
It is to Henry that we owe the rebuilding of Westminster Abbey in the new Gothic style of architecture. In 1220 he had laid the foundation stone of the old Lady Chapel (later replaced by Henry VII's chapel) and he had a special devotion to St Edward the Confessor. He wanted to emulate the great churches then being built in France and to transfer Edward's body to a new shrine near which he himself could be buried.
Demolition of Edward the Confessor's 11th century church began in 1245 and the king was recklessly extravagant in the money spent on the Abbey and its lavish decoration (the cost including the new Shrine was £45,000, about 15 million in today's money). The eastern section, including the intricate Cosmati pavement, and transepts of the Church as far as one bay of the nave west of the organ screen, dates from his reign. The bones of St Edward were translated to the new shrine in 1269 and the consecration of the Church took place on 13th October 1269. But building ceased when Henry died and it was completed at a much later date.
Henry married Eleanor, daughter of Raymond Berenger V, Count of Provence, in Canterbury cathedral on 14th January 1236 (she later became a nun and died at Amesbury in 1291). They had five sons – Edward, who succeeded his father as Edward I, Edmund, Earl of Lancaster who is also buried in the Abbey, Richard, John, and Henry, who all died young and were buried in the Abbey. Their three daughters were Margaret, who married Alexander III of Scotland, Beatrice, who married Jean de Dreux Earl of Richmond, and Katherine who died young in 1257 and who was buried in the Abbey.
He was hastily crowned king at Gloucester Abbey on 28th October 1216 due to the uncertain political situation at the time and then again with full ceremonial in Westminster Abbey on 17th May 1220. Eleanor was crowned on 20th January 1236.
READ MORE ABOUT THE ABBEY'S HISTORY HERE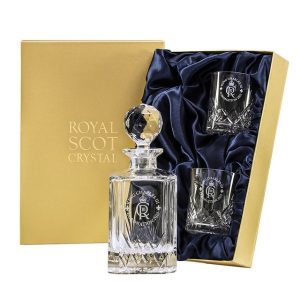 SHOP
To commemorate the Coronation of His Majesty King Charles III, we have designed a distinguished collection of hand cut crystal.
Beautifully hand cut and engraved, this prestigious whisky set is an impressive piece and a timeless heirloom to be cherished and passed on through the generations.
This Royal Scot Crystal commemorative piece is supplied with a small commemorative card.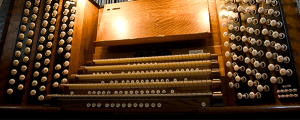 FREE SUNDAY ORGAN RECITALS
Sundays throughout the year
Held on Sundays at 5.00pm, these popular 30-minute recitals are given by visiting and the Abbey's own organists and feature a wide range of music to suit all tastes.
Admission is free, tickets are not required.
*Please note – there is no Organ Recital on Sunday 7th May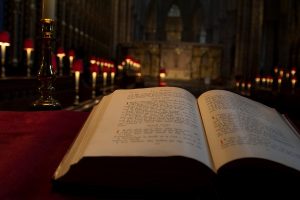 DAILY SERVICES
Westminster Abbey has been a place of worship since the tenth century and we still hold services every day.
Everyone is welcome to worship with us; services are free of charge and most do not require a ticket.
*Please note – service times and locations may vary until Saturday 13th May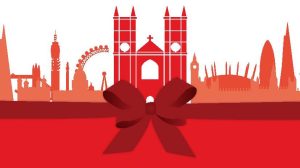 BECOME A MEMBER AND SUPPORT WESTMINSTER ABBEY
It costs over £14 million a year to maintain the Abbey, and we do not receive any funding from the Church, the Crown, or the Government. The drastic reduction to our income caused by the Covid pandemic is putting our priceless heritage at risk.
You can support the work of the Abbey, and preserve over 1,000 years of history, by becoming a member of the Abbey Association. From just £40, membership benefits include free entry to the Abbey and Galleries, exclusive member events and tours and discounts in our shops and the Cellarium Café and Terrace.
FIND OUT MORE AND BECOME A MEMBER TODAY!