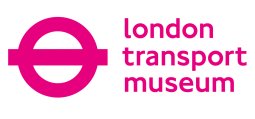 Making of Black Britain announce 2023 partnership with London Transport Museum
Broadcaster Diane Louise Jordan, of Blue Peter, is delighted to announce that the oral history and digital storytelling project, The Making of Black Britain (MOBB) will be working in partnership with London Transport Museum for a series of exciting events in 2023.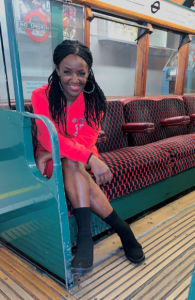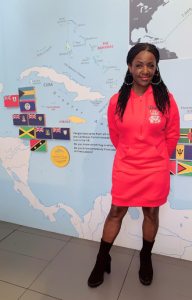 Diane Louise Jordan at London Transport Museum, 2023 © London Transport Museum
The brainchild of Diane Louise Jordan, MOBB  is a mass collection of stories from all over the United Kingdom exploring what it means to be British; a uniquely British story about nationality, citizenship, identity and belonging, with the ambition of being the UK's biggest ever audio and digital gathering exercise. At the heart of MOBB's mission is the creation of an oral history archive, which documents the transformation of mainland Britain (or the British metropole) from the start of mass migration from Commonwealth nations post war. It takes the British Nationality Act of 1948 as its anchor point, which recognised Commonwealth subjects as British citizens and recognised their right to work and reside in the UK on an equal status to other British residents.
Housed on artsandculture.google.com/partner/the-making-black-britain* The Making of Black Britain is a living public oral history archive, inviting everyone – whatever their background from generation to generation, to share their story, exploring their history and present-day experiences.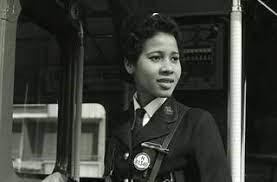 Agatha Claudette Hart, 1962 © London Transport Museum
London Transport Museum located in the heart of Covent Garden, tells the story of the capital city's transport history. It is a thriving hub, celebrating London's fascinating past and engaging people in debate about its future. Many of those coming to Britain after the 1948 Nationality Act took work in transport, including in London. As London became a more culturally diverse city, so too did London Transport. In the workforce of today's Transport for London (TfL), over 41% identify as being Black or from an ethnic minority.
Diane Louise Jordan, TV presenter and Founder of MOBB, said:
'We're at a very exciting stage in the life of MOBB, now developing an education arm. It's an honour to be working with London Transport Museum. The Museum itself celebrates over 200 years of the history of transport in London, and most importantly the wealth of workers from all over the world who have and continue to make it possible for Londoners to get from A to B, on all forms of transport'.
The heart of MOBB's work is to reach out to the community and to gather stories.
The partnership with London Transport Museum comes at a crucial time for MOBB in 2023, as their educational arm comes into play. This year Diane will be touring the UK in a MOBB bus and giving talks about MOBB in schools across the country. MOBB is delighted that they will also be able to work with the young visitors, parents, carers and schools who visit London Transport Museum.
The London Transport Museum and MOBB partnership will mean that primary school teachers will be offered the opportunity take part in a Continual Professional Development (CPD) programme enabling them to train their students as story collectors and to collect stories within their school and local community. As part of this programme MOBB and the Museum will support teachers to better embed Black histories into the curriculum using the Museum's collections and stories from the MOBB archive.
The Museum has invited MOBB to partner with London Transport Museum's Young People's Skills Programme training young people (aged 16-25) in oral history and digital storytelling skills enabling them to become story collectors for the MOBB archive. These young people will collect stories from schools, businesses and other walks of life.
Elizabeth McKay, Chief Operating Officer, London Transport Museum, said:
'We are really looking forward to working with Diane and The Making of Black Britain. The 1948 Nationality Act led to lots of people of Caribbean heritage working for what was then London Transport and its successor TfL. By training young people to become storytellers and digital collectors we hope to give them valuable skills for life and work and support MOBB to document and record what it means to be a Black British person in the UK.'
Fenella Goodhart, Head of Learning, London Transport Museum, said:
'We plan to work with primary school teachers and The Making of Black Britain team to help make Black history a bigger part of the curriculum. We will also be collaborating with MOBB on a Museum Late and Depot Open Days later in the year.'
Patricia Obinna, Director of Diversity and Inclusion, Transport for London, said: 'London's diversity makes it an attractive place to live and at TfL we are working hard to ensure that our workforce reflects the communities that our network serve. The new education arm of MOBB, alongside the Legacies: London Transport's Caribbean Workforce exhibition at London Transport Museum, will both help teachers to make Black history a bigger part of the curriculum and further showcase the significant contributions that our multi-cultural colleagues have made to London's transport network over the years.'
London Transport Museum hosts Museum Late events on certain evenings over the year, when the public can explore the Museum after dark and has the opportunity to listen to talks from expert speakers, enjoy creative workshops and relax with a drink and music. The Museum will host a Museum Late called Voices of London on 14 July in collaboration with MOBB to mark the 1948 Nationality Act. www.ltmuseum.co.uk/whats-on/friday-late/museum-late-voices-london
On three weekends of the year only the London Transport Museum Depot throws open its doors to the public to visit a treasure trove of historic Tube trains, buses, maps, signs and transport posters. At a Museum Depot event later in the year called Transport & Stories on 21, 22, 23 and 24 September, London Transport Museum will work with MOBB to share stories from the Museum's collection and the MOBB archive about the contribution Black British people, people of African heritage and Caribbean heritage have made to transport and life in London. Visitors wishing to attend the Museum Depot event in September should keep an eye on the London Transport Museum website and sign up to the Museum's newsletter to be alerted to ticket sales going live.
MOBB, with the support of London Transport Museum, plans to create an Advisory Board of key stakeholders from diverse backgrounds to provide ideas and advice for an annual teacher Continuous Professional Development (CPD) programme and story collection project for schools.  By creating an Advisory Board linked to this schools' project MOBB and the Museum are seeking a balance of voices in the stories they share and in the decisions and planning of the project. This group of people will be made up of teachers, people of Caribbean, South Asian or African heritage, academics and colleagues at Transport for London and the Museum.
A similar Advisory Board was set up for the Legacies: London Transport's Caribbean Workforce exhibition by London Transport Museum. This group of people of Caribbean descent helped shape the format of the exhibition and made a vital contribution to a successful exhibition, which has now been shortlisted for a 2023 Museums & Heritage Award.
Editors Notes
The Making of Black Britain Objectives: 
The history of Black Britain is the central story that connects Britain's imperial past to our present day modern Britain. Led by Diane Louise Jordan, the project will gather oral histories from people around the country of every class, colour, creed, and generation, telling the story of how they have lived through, contributed to and been affected by the mass migration from Commonwealth nations in the post war period. In Diane's words:
"I don't believe we can fully comprehend what it means to be British without fully understanding the emergence of Black British people on mainland British soil"
The archive will be a gift to the nation and an antidote to polarised views, for use not only by academics and researchers, but the general public and all those who seek to explore culture, heritage, identity, belonging, race, and place. The collection will also help to inform MOBB's work toward a documentary series, book, and education programme.  
MOBB Interview Themes:
The key question that MOBB's work seeks to answer is 'What does it mean to be British?'. The 1948 act threw light on the complexity of what it is to be British, identifying the great diversity of people living across the world in former British colonies as British citizens. The breadth and depth of the participant base will give the opportunity to explore this research area across several generations of families, and also across diasporas from a range of Commonwealth countries.
Themes for all interviews will include, but not be limited to: first memories and early life (including life in birth country if not Britain), family, heritage and culture, decision to leave home and first experiences of arriving in Britain (if applicable), location and accommodation, education & skills, friendships & relationships, working life, community (experiences with institutions / authority, such as school, police, hospitals) and identity and belonging (including sense of self, mental health, appearance and spirituality).
This theme of identity and how, or indeed if, this changed and developed as individuals moved geographically, through political and cultural changes both in Britain and in their countries of origin, and through the decades and stages of their own lives, will underpin all areas of questioning.
About London Transport Museum
London Transport Museum's purpose is to ignite curiosity to shape the future. The Museum is situated in the heart of Covent Garden and filled with stunning exhibits; the Museum explores the powerful link between transport and the growth of modern London, culture and society since 1800. Historic vehicles, world-famous posters and the very best objects from the Museum's extraordinary collection are brought together to tell the story of London's development and the part transport played in defining the unique identity of the city. In 2022 the Museum was named Visitor Attraction of the Year at the London Tourism Awards.

The Museum is a charity and the world's leading museum of urban transport and a place for everyone to come to understand and enjoy the story of London's journey. No other capital city is defined and shaped so much by its transport as London. Yet the scale of influence of transport can be invisible to those who use it every day. The Museum's collections, together with its lively events and learning programme are a window into the past, present and future of how transport keeps London moving, working and growing, and makes life in our city better. The Museum's charity number is 1123122

London Transport Museum is supported by public funding from Arts Council England
Tickets for London Transport Museum
Museum open daily from 10:00-18:00

Adult tickets cost £24 and allow free return day-time entry for a whole year – kids go free!

£1 tickets are available to visitors in receipt of Universal Credit and Pension Credit
Travel to London Transport Museum
Address: Covent Garden Piazza, WC2E 7BB

Walking: Use TfL's walking guides to help you plan your journey.

The nearest stations to London Transport Museum are:
Underground: Covent Garden, Leicester Square, Charing Cross, Embankment, Holborn
National Rail: Charing Cross and Waterloo
Boat: Embankment or Westminster pier
Bus: Strand or Aldwych
The latest service information will be available online and through TfL travel tools including the TfL Go app, which enables customers to access live updates and train times for every station as well as the quieter times to travel.