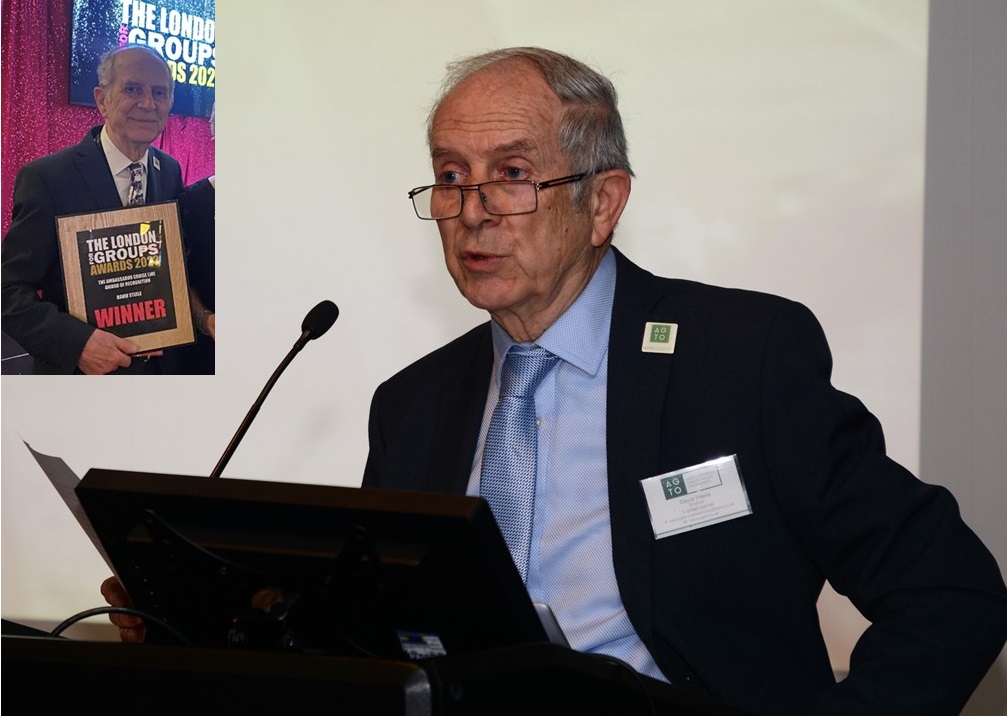 Interview with David Steele
AGTO Interview – David Steele
The London for Groups Awards 2023 – The Ambassador Cruise Line Award of Recognition
Our very own AGTO Board Director David Steele, was recently awarded the 'Ambassador Cruise Line Award of Recognition' at the 'London for Groups Awards 2023'.  The ceremony took place at the lavish central London venue, Smith & Wollensky.
A well-respected face in the tourism industry, David has won multiple awards throughout his 50-year career for his services to the industry, so it was wonderful to see his contribution over the course of his career recognised at such a prestigious event. As well as being at the heart of the travel industry, David has been an integral part of AGTO since 1995 and became a volunteer Director when the Board was constituted in 2014. This was at a time when AGTO was making a step forward into the industry, to be recognised as a professional association and not an organising committee.  AGTO is to this day the only professionally run association for group organisers and the commercial interests in the UK inbound industry.
David's first foray into the world of work was in fact in finance, where he had a well-established career as an Accountant, but in 1972 the company that he was working for closed and he decided to explore other avenues, not wishing to return to the London finance market. David would soon find work as an Accountant Manager at a River Cruise Company – Thames Launches. However, it quickly became clear that he had a skill for sales and marketing, having come up with several successful campaign ideas, so he was moved to the marketing team and from there never looked back. Having been bitten by the river cruise bug, David would later work as a Sales and Marketing Director for Catamaran Cruises and finally City Cruises where he worked until his retirement in 2009, which he celebrated by sailing down the River Thames at a party attended by family, friends, and the cream of the tourism industry. Although David couldn't completely walk away, as he later became a Group Organiser, organising theatre packages for the Institute of Directors.
Some may ask why turn your back on the London money market, but for David, the job satisfaction that he gained from delighting his clients whether that be a high-profile MP or organising a riverboat procession plus meeting so many characters in the tourist industry, far outweighed anything that he had experienced as an Accountant.
Commenting on his win, David said 'I am delighted to have received this recognition of my 50 years in industry, to which I have given my all and thoroughly enjoyed every moment. However, as we all know especially in the last 3-years, that success is achieved as part of a team, so I would like to shine a spotlight on AGTO Director Wendy – Hartley-Scarff and AGTO Secretariat CJAM, who have helped steer us through this post pandemic era.'
Congratulations once again David!