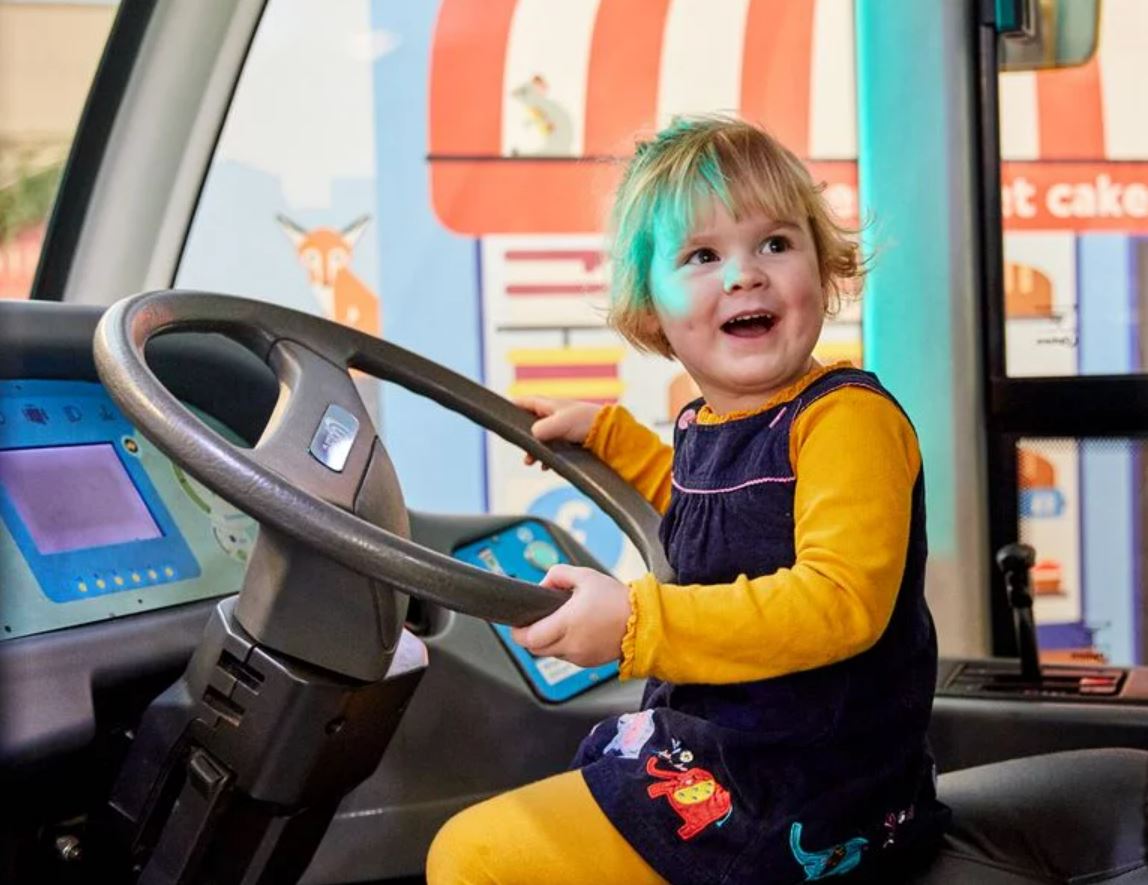 May half-term family activities Get 'wheely' creative! at London Transport Museum, 28 May to 5 June 2022

Families can:
Follow and record clues around the Museum as part of a 'My Visit to London Transport Museum' activity
Get 'wheely' creative in an artist-led tyre-printing and spirograph workshop
Enjoy story-telling sessions about 'The Curious Adventure of the Underground Mouse'
Kids go free
Families can visit  London Transport Museum in Covent Garden this May half-term for nine days of imagination, fun and curiosity, choosing from activities including a creative workshop and storytelling.
'My Visit to London Transport Museum' activity
Visitors are invited to be curious exploring the Museum galleries as they collect facts, draw pictures and complete different tasks on their activity sheets, which will be available from the ticket desk. Finding the big red Routemaster bus and working out how many passengers can travel on it, discovering what shape Underground tunnels are and counting the wheels on the historic Omnibus are just some of the tasks in this activity. Once completed children will be able to create their own origami book at home all about their visit to the Museum as a souvenir of a great day out. The 'make and take' book will have fun activity sections to encourage visitors to interact with the Museum collection in a collaborative and inquisitive way.
Dates and times: Throughout the galleries, everyday all day, best for 5 years plus 
Get 'wheely' creative
Children can make tracks and get 'wheely' creative in an artist led drop-in workshop encouraging freedom of curiosity and experimentation. Younger visitors will contribute to a communal art piece using a range of vehicle toys by adding their own colourful mark making, and older children will be invited to design and create their own exciting spirograph wheel designs to add to a range of different London vehicle templates.
Dates and times: Drop in between 10.30 to 16.00, every day, best for 3-12 years, in the Transportorium Garden

Storytelling with an Underground Mouse
Under 7s can settle down and fire their imaginations with a story about 'The Curious Adventure of the Underground Mouse'.
Dates and times: 11.00, 12.00, 13.00, 14.30 and 15.30 for approximately 20 minutes everyday, best for under 7s – first come first serve, approximately 10 families maximum, in the Transportorium Garden
During a visit to London Transport Museum families can also:
Visit the Museum galleries and explore the Museum's newest exhibition Legacies: London Transport's Caribbean Workforce. Children are encouraged to try out a new, fun, flag exhibit that asks them to guess the Caribbean nation belonging to each flag, while small family-friendly printed labels will allow younger ones to ask questions about the experiences of the Caribbean people that made London their home
See historic buses, trams and Tube trains from London's past
Visit the Future Engineers gallery and get hands-on with interactive exhibits. Try out a palm scanner – the latest in ticketing technology, 'drive' a modern Elizabeth line train, and see their face on the cover of The Engineer magazine
See a life-size recreation of the tunnelling shield that helped create the world's first electric Tube railway in the Digging Deeper gallery and learn about the history of tunnelling, from the feats of Victorian engineering pioneer James Greathead, to modern day Crossrail
Explore the All Aboard family play zone where young visitors can play conductor on a bus, repair a mini Tube train with toy spanners, and work in the 'Lost Property Office'
All May half-term activities take place at London Transport Museum, Covent Garden Piazza and run from 10:00 until 16:00, 28 May to 5 June 2022. London Transport Museum was recently named London Visitor Attraction of the Year at the London Tourism Awards.
An annual pass and a timed ticket is needed to visit London Transport Museum. Valid for 12 months, this allows entry throughout the year. An unlimited annual pass is £21, concessions £20 and an off-peak annual pass is £18.50.  Kids go free. More details here: ltmuseum.co.uk/visit/tickets 
The latest information about coronavirus safety measures can be found on the Museum's website.
Ends