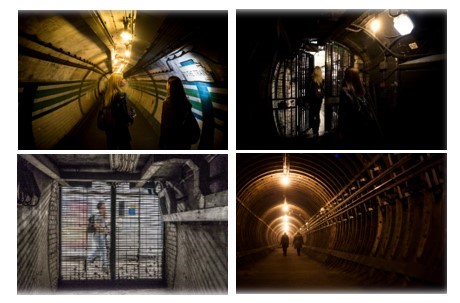 Explore a secret world beneath London's streets
London Transport Museum's in-person Hidden London tours of disused Underground stations return after 18-month break
In-person Hidden London tours of the Capital's 'forgotten' stations to resume in October
Tours of disused areas of Piccadilly Circus and Charing Cross stations will return for first time since March 2020
New season of virtual Hidden London tours and walking tours to also go on sale
24-hour priority booking available to London Transport Museum newsletter subscribers, sign-up via ltmuseum.co.uk to avoid missing out
Tickets go on public sale on Friday 8 October 2021 at ltmuseum.co.uk/hidden-london
This October London Transport Museum will resume its exclusive in-person Hidden London tours of disused Tube stations and secret sites across the Capital, after more than a year and a half hiatus due to the pandemic.
Excursions into the dark and mysterious depths of the Tube network will once again be possible, with tours of the disused areas of iconic Piccadilly Circus and Charing Cross stations to run on selected dates from October-November, and November-December respectively.
Led by expert guides with a wealth of fascinating facts and tales to share about these 'forgotten' parts of the London Underground, visitors will explore disused tunnels, platforms and lift shafts steeped in history that lie concealed just a stone's throw away from unknowing modern day commuters.
Tickets for new tours will be available to the Museum's enewsletter subscribers ahead of general release, sign up via ltmuseum.co.uk for priority booking.
Tickets go on public sale on Friday 8 October 2021 via ltmuseum.co.uk/hidden-london
On the Piccadilly Circus: The Heart of London tour, visitors will be able to experience hidden areas of the station that have been closed to the public since 1929, as well as uncover the history of this iconic Grade II listed building and the famous architects responsible for its creation. Located directly underneath the celebrated landmark, Piccadilly Circus station opened in 1906 but was extensively modernised between 1925 and 1928 to meet passenger demands. This station is an engineering marvel and boasts one of the finest examples of subterranean architecture on London Underground.
Guests will be led behind secret doors to eerie passageways and disused lift shafts as they listen to stories of wartime-sheltering and the top-secret storage of priceless museum artefacts.
On the Charing Cross: Access All Areas tour, visitors will go behind the scenes to exclusive disused areas off-limits to the public. Walk under Trafalgar Square and see London Underground in a different light. Closed to the public since 1999, the Jubilee line platforms at Charing Cross are now synonymous with movie and TV filming. This is a unique opportunity to get a glimpse of the sites where blockbuster movies such as Skyfall (2011/12), Paddington Bear (2013), Thor: The Dark World (2014) and TV's 24 (2014) and Killing Eve (2019) were filmed.
A new season of virtual Hidden London tours will also be available to book. Running from October to December, these tours give visitors from anywhere in the world the opportunity to get up close to out-of-bounds areas on the network from the comfort of home. Guests will be walked through a gallery of contemporary photos, videos, never-before-seen footage as well as archival images from London Transport Museum's collection while their expert guide shares the history of these mysterious parts of London's transport system. Access to many sites on the virtual tour roster is so restricted that in-person Hidden London tours will never be possible, making these virtual experiences particularly special.
For those who prefer their cultural experiences above ground, new tour dates for the Secrets of Central London walking tour of Covent Garden, Kingsway, Lincoln's Inn Fields and Victoria Embankment will also be on sale. Explore these areas with expert guides who reveal fascinating little-known historical tales and tit-bits about the area and its transformation over the last 200 years.
Tour information and dates
Run by London Transport Museum, Hidden London is a programme of exclusive tours and events across the Capital at locations rarely seen by, and usually off limits to, the public. Venturing beyond secret entrances and unassuming doorways, visitors will be led on atmospheric journeys into disused stations and concealed spaces on the Tube network, and to places steeped in history hidden in plain sight around the city.
In-person tour – Piccadilly Circus: The Heart of London
Selected dates between 20 October and 14 November inclusive. Tickets: Adult £41.50, Concessions £36.50.
In-person tour – Charing Cross: Access All Areas
Selected dates between 17 November and 19 December inclusive. Tickets: Adult £41.50; Concession £36.50.
Selected dates between 19 October and 29 November inclusive. Tickets: Adult £20, Concession £17.50
An unusual Leslie Green designed station located on the Piccadilly line between King's Cross St Pancras and Caledonian Road, York Road had a short working life between 1906 and 1932. Situated in a relatively poor area of London at the time, the station never had much custom and was eventually closed. The station building has been dormant ever since. This virtual tour explores unique surviving features such as a tiled lift lobby and signal cabin as well as modifications to the station with never-before seen footage. 
Virtual tour – Brompton Road
Selected dates between 1 November and 14 December inclusive. Tickets: Adult £20, Concession £17.50
Located between Knightsbridge and South Kensington stations on the Piccadilly line, Brompton Road station was closed in 1934 after the Piccadilly line was extended. It was closed along with stations such as Down Street and York Road as they were only lightly used – with some services passing through without stopping. Zoom in for this special behind the scenes digital tour to learn about its time as a Second World War bunker and see what the disused station looks like today.
Virtual Tour – King William Street
Selected dates between 1 November and 14 December inclusive. Tickets: Adult £20, Concession £17.50
King William Street station has the honour of being the first disused deep-level Tube station. Closed in 1900, King William Street was the original but short-lived northern terminus of the City and South London Railway (CSLR), which was the first deep-level underground railway in the world. On this special behind-the-scenes virtual tour, see what the disused station looks like today and find out how it is being used during the Bank station extension project.
Virtual Tour – Holborn (Kingsway)
Selected dates between 26 October and 6 December inclusive. Tickets: Adult £20, Concession £17.50
In 1898 the London County Council (LCC) decided to completely redevelop the area in London we now know as Kingsway and Aldwych. This required new public transport to bring people to and from work and in response the LCC built a tram subway underneath Kingsway itself, to facilitate interchange between South and North London trams.  This tour explores how public transport unlocked parts of London previously inaccessible at the turn of the 20th Century and how these spaces adapted and changed when they were no longer required to serve their original purpose, often in very unusual ways.
Selected dates between 19 October and 29 November inclusive. Tickets: Adult £20, Concession £17.50
In 1907 two separate Underground stations opened at Euston running the lines which would ultimately become the two branches of the Northern line. This virtual tour explores the remains of these two original structures that have been closed for over a century, taking you to places the public have not seen before. See the passageways, emergency stairs and lift shaft of the Hampstead tube as well as getting a last look inside the iconic Leslie Green station building before it is demolished. New and never-before-seen footage makes this the ultimate tour of Euston's Underground.
Selected dates between 26 October and 6 December inclusive. Tickets: Adult £20, Concession £17.50
Aldwych station is one of London's little-known relics, holding myths and memories of times gone by. This exclusive virtual tour of one of the most popular Hidden London sites allows virtual visitors a glimpse of places that aren't accessible in person such as the ladies toilets – with some fascinating original features that have long since disappeared in modern Underground station – and the upper ticket hall with its original ticket windows and telephone booths – some dating back to the station's opening in 1907.
Walking Tour – Secrets of Central London
Selected dates from 22 October to 19 December inclusive. Tickets: Adult £20, Concession £17.50
Discover the secrets of London on a walking tour of Covent Garden, Kingsway, Lincoln's Inn Fields and Victoria Embankment. Join our expert guides and tour off the beaten path, down hidden back streets and find hidden secrets you've never even noticed. Find out how the area has transformed over the last 200 years and see abandoned transport infrastructure and remarkable feats of engineering that have shaped London.
For more information on individual tours visit: ltmuseum.co.uk/hidden-london
Hidden London exhibition extended to 31 December 2023
Explore the award-winning Hidden London exhibition in London Transport Museum's Global Gallery. Bringing together the largest number of rare archive photos, objects, vintage posters, secret diagrams and decorative tiles from disused stations in one location for the first time, the exhibition reveals the mysteries of the Capital's 'abandoned' Underground stations. Delve into the secret wartime histories of Down Street and Clapham South and discover the creative ways forgotten subterranean spaces are being adapted for today's world. By popular demand the exhibition has been extended until the end of 2023.
Hidden London Hangouts on YouTube – new episodes each Saturday at 18:00
Hidden London Hangouts give everyone a chance to learn more about the Capital's subterranean transport secrets with wit and humour from four loveable Londoners and experts in their field. New episodes are released on London Transport Museum's YouTube channel every Saturday at 18:00. Visit www.youtube.com/ltmuseumvideo to see up and coming as well as previous episodes. Each episode is hosted by self-confessed Tube geek and broadcaster Alex Grundon.
Hidden London book
People wishing to own a bit of disused station history can treat themselves to an illustrated Hidden London book (Hardback, £25) published by Yale University Press and on sale at London Transport Museum's shop in Covent Garden and online at www.ltmuseumshop.co.uk and other stores nationwide.