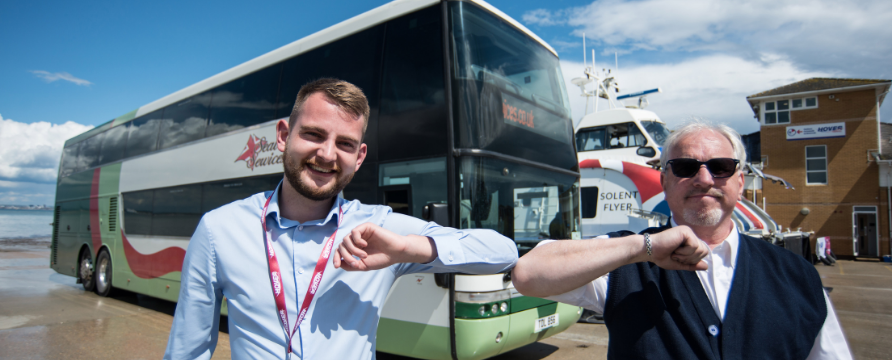 Hovertravel & Seaview Services to offer guided coach tours of the Isle of Wight
Hovertravel has teamed up with Seaview Services to offer guided coach tours of the Isle of Wight, bringing together the convenience of the short hovercraft journey with an easy transfer to a waiting coach at Ryde.
Pat Sowerbutts, Commercial Development Executive at Hovertravel explained, "We know from our contacts in the coach industry and our own research that many customers want to be able to experience the thrill and excitement of our hovercraft combined with an easy way to explore and discover the Isle of Wight. We needed a partner who could provide the coach and guided tour element of such a trip and we are delighted to announce today that we are going to be working with Seaview Services."
Seaview Services is approaching 103 years of organising and delivering coach-based tours and excursions on the Isle of Wight, having been started in 1918 by Richard Newall. Today the business can organise all aspects of your trip to the Island, including booking conference suites, restaurants and hotels.
Phil Robinson,  Chairman from Seaview Services added, "We are family run company that is big enough to cope but small enough to care! Additionally, we have extensive experience and considerable local knowledge of coach-based tourism on the Isle of Wight. We are looking forward to working with Hovertravel to showcase the fabulous sights that the Island has to offer."
The first guided tour will be a circular coastal route, taking in the scenic delights of Sandown, Ventor, both Freshwater and Alum Bays and Yarmouth before returning to Ryde.
For more details please contact Pat at commercial@hovertravel.com