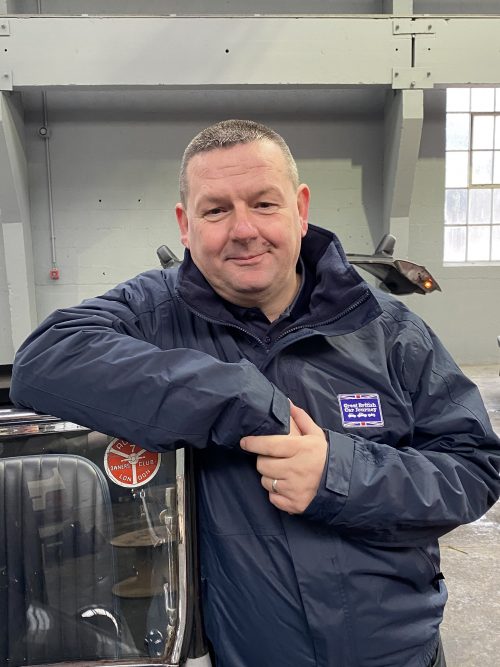 General Manager appointed ahead of Great British Car Journey opening
Ahead of opening the doors of Derbyshire's brand new visitor attraction, Ian Gardecki has been appointed as General Manager of Great British Car Journey in Ambergate.
Ian, who hails from Littleover in Derbyshire, has left the world of supercars to take up his new role at the attraction which opens on Saturday 22 May 2021.
Formerly a self-employed instructor and an events manager for a supercar company, Ian brings more than 15 years' experience in the motoring industry to his new role. He said: "I am going from driving Ferraris to Morris Minors and I couldn't be happier. "
In his new role, Ian will oversee the daily operations of the British classic car attraction which boasts more than 150 original examples of cars which have long since disappeared from Britain's roads. He will also manage the Drive Dad's Car experience where, amongst a fleet of over 30 cars, people can take a Ford Capri, Austin Seven, Morris Minor and even a Rolls Royce for a trip down memory lane on the on-site route.
He added: "Great British Car Journey and Drive Dad's Car are something completely different and not being done anywhere else. Many of the cars we have at the attraction, like the Welsh Gilbern, Austin Atlantic and Ford Cortina, are now rarer than supercars on Britain's roads today. To be part of the team responsible for helping preserve Britain's motoring heritage is tremendously exciting for me and I can't wait for our doors to open."
Great British Car Journey is the brainchild of former Auto Windscreens and Blyton circuit owner Richard Usher.
Ian added: "Richard's passion for British made and designed classic cars and his vision for the attraction is infectious and when I heard about it I knew that I had to get involved."
Ian is one of up to 40 roles that will be created at the site once it is fully open.
The final touches are now being put to the four-acre site ahead of opening to the general public on Saturday 22 May.
Located at the former Wire Works site in Ambergate, Derbyshire Great British Car Journey will take visitors on an interactive journey through the golden years of British design and manufacturing from the 1930s – 1990s using a unique audio-visual device.
Alongside the exhibition and Drive Dad's Car experience, Great British Car Journey will also boast a gift shop and café.
Tickets are available to pre-book online now. Entry to Great British Car Journey is £15 per adult and Drive Dad's Car experiences start from £49 with entry to the attraction included.
Book online at www.greatbritishcarjourney.com and www.drivedadscar.com
Ends.
Notes to Editors
Great British Car Journey (GBCJ) is located at Derwent Works, Ambergate, Derbyshire DE56 2HE.
Drive Dad's Car will allow visitors to take for a test drive with an instructor in a selection of over 30 iconic British cars from the Austin Seven to a Rolls Royce Silver Spirit.
The GBCJ café and gift shop will be open to all visitors including non-ticket holders.
GBCJ will take visitors through a nine-stage story of the rise and demise of the British motor industry (a story that has never been told) using a unique interactive device which has been created by event technology specialists Imagineear.
To keep up-to-date with developments at Great British Car Journey and Drive Dad's Car on social media:
For further information, please contact:
Anna Melton
In the Works PR
Tel: 01246 386480 / 07837108559
Email: anna@intheworkspr.co.uk