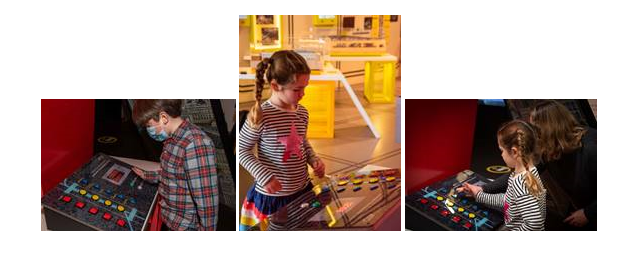 New Smooth Operator train computer challenge now live at London Transport Museum
A new interactive game that encourages visitors to test their reactions against a simulated train computer is now open
The popular Untangling the Tracks exhibition has been extended to 5 September 2021
London Transport Museum has now re-opened for the festive fun  
A new game has been added to the now extended Untangling the Tracks exhibition at London Transport Museum in the heart of Covent Garden. The new installation invites families and playful adults to race against a simplified and simulated train computer. This is inspired by the real Automatic Train Operation (ATO) system found on Thameslink trains between Blackfriars and St. Pancras stations that has made services more frequent for passengers.
Smooth Operator is a fast and fun BATAK style reactions challenge that is entirely button activated. It allows visitors to compete against a digital self-drive system that moves trains along the route, braking, opening and closing doors and then accelerating away to the next station.
Players have to press lit buttons as quickly as they can to make trains travel along the tracks and see if they can deliver more passengers, more quickly to their destination than a digital train-control system would. Smooth operator is aimed at children aged eight and above and adults wishing to understand the concept and benefits of ATO, though it is fun for all the family.
Sam Mullins OBE, Director of London Transport Museum, said: "Despite these challenging times we've worked hard to bring our visitors a new fast and fun interactive game that is also educational. Now that our Museum is open once again, come and test your reaction skills on this latest addition to the popular Untangling the Tracks exhibition – all part of enjoying your city and our Museum without the crowds."
What is ATO in a nutshell?
Automatic Train Operation or 'self-drive' digital technology means trains can run closer together than with manual operations. This means more trains for passengers to catch, more regularly – just like a Tube service. Practically speaking, when the system tells the driver that ATO is available, the driver presses a button and the system takes over.
ATO uses the optimum acceleration and brake rates afforded to it to speed the train on its way and bring the train to a halt at the next station and open the train doors. The driver then undertakes safety checks, closes the doors and selects ATO again. The system has been used in passenger service since 11 December 2019 on Thameslink services.
Untangling the Tracks exhibition now extended to 5 September 2021
The UK has the oldest railway network in the world. The Untangling the Tracks exhibition traces the history of the Thameslink route from 1836 through to the recent Thameslink £7bn modernisation programme, which has transformed the route and 'untangled the tracks'.
The Thameslink route links destinations from the south coast through London to the east of England. Its origins are in the London, Chatham and Dover Railway, which at the time was the only train company allowed into the heart of London. Thameslink trains still follow the same route today, which under normal pre-pandemic times would carry tens of millions of passengers a year, presenting challenges that would be unimaginable to the Victorians who founded and ran the original railway on this route. New technology in the form of ATO is one of the ways Thameslink is overcoming these modern-day challenges.
Visitors to the exhibition will be able to explore historic London Transport posters and modern-day Thameslink equivalents to see how the art of the poster has been used as an important way of communicating service changes, disruption and major transport upgrades.  In addition, they can view architectural models of London Bridge, Blackfriars and Borough Viaduct and watch Borough Market go-pro footage that shows how the Thameslink Programme has preserved this famous market's heritage features. Younger children will love having a go at solving an 'Untangling the Tracks' puzzle by navigating trains into the right platforms. The game is inspired by the impressive engineering of the Bermondsey dive-under, a new structure built on the rail approach to London Bridge station.
The Thameslink Programme was a government funded partnership between Department for Transport, Network Rail, train operators Govia Thameslink Railway (GTR) and Southeastern, and transport mobility/infrastructure company Siemens. The project ensured millions of passengers could continue to travel on the Thameslink route, while the huge infrastructure project to transform and modernise an ageing railway and its stations was undertaken. New trains now run on 'untangled' tracks into a completely rebuilt London Bridge station. For more information on the Thameslink programme and ATO visit: https://www.thameslinkprogramme.co.uk/learning-legacy/new-trains-technology/ato/
Festive Family Fun
As well as trying out this the new Smooth Operator interactive visitors can enjoy a warm welcome in the Museum galleries with a line-up of family festivities and stunning seasonal posters depicting the magic of London during wintertime. Families can hunt for hidden Underground roundels nestled among the historic vehicles and answer fun transport trivia questions as they follow a festive winter trail designed for children aged five to 12 years old.
As Christmas Day approaches, Santa will be stopping his sleigh at London Transport Museum to meet families on Saturday 12 and Sunday 13 December, and every day between Saturday 19 and Wednesday 23 December. On Saturday 12 December between 08.30 and 10:00 an Early Explorer morning for children with special education needs, including Autism Spectrum Disorder, will take place. Families can meet Santa and enjoy the Museum outside of our regular opening hours with many of the gallery sounds turned off.
For media enquiries, images and interviews contact: press.office@ltmuseum.co.uk / Candice.Jones@ltmuseum.co.uk or Claudia.Pearson@ltmuseum.co.uk
Notes to editors
The Museum is open with the majority of its interactive exhibits accessible for people to enjoy, but to ensure people's safety access to a number of vehicles will be limited and the stamper trail is not be in use. London Transport Museum has received Visit Britain's 'Good to Go' standard and have measures in place to keep people safe during their visit. These include:
New pre-visit information to help people plan ahead
New one-way routes to explore with updated signage
Queuing systems to help people social distance
Hand sanitiser stations throughout the venues
Enhanced cleaning regimes with anti-viral disinfectant that protects for up to 30 days
Cash-free contactless payments
PPE for staff
Adults and children aged 11 and over must wear a face covering when visiting both the Museum.
In social media posts please tag:
About London Transport Museum
London Transport Museum's purpose is to ignite curiosity to shape the future. The Museum is situated in the heart of Covent Garden and filled with stunning exhibits; the Museum explores the powerful link between transport and the growth of modern London, culture and society since 1800. Historic vehicles, world-famous posters and the very best objects from the Museum's extraordinary collection are brought together to tell the story of London's development and the part transport played in defining the unique identity of the city
The Museum is a charity and the world's leading museum of urban transport and a place for everyone to come to understand and enjoy the story of London's journey. No other capital city is defined and shaped so much by its transport as London. Yet the scale of influence of transport can be invisible to those who use it every day. The Museum's collections, together with its lively events and learning programme are a window into the past, present and future of how transport keeps London moving, working and growing, and makes life in our city better. The Museum's charity number is 1123122
London Transport Museum is supported by public funding from Arts Council England
Travel to London Transport Museum
Address: Covent Garden Piazza, WC2E 7BB
Walking: Use TfL's walking guides to help you plan your journey.
Visitors travelling by public transport must wear a face covering. The nearest stations to London Transport Museum are:
Underground: Covent Garden, Leicester Square, Charing Cross, Embankment, Holborn
National Rail: Charing Cross and Waterloo
Boat: Embankment or Westminster pier
Bus: Strand or Aldwych
Tickets for London Transport Museum
Adult tickets include free entry to enjoy the Museum for a whole year – kids go free!
Museum open daily from 10:00 to 18:00
Timed entry must be booked in advance online