COVID-19 Update 27th November 2020
Here is the full list of English regions by Tier Level. Please note that these new Tier levels will be reviewed after 14 days meaning that they will be in place until 16th December.
https://www.gov.uk/guidance/full-list-of-local-restriction-tiers-by-area
And here is the statement that the Health Secretary made to parliament announcing the new regional Tier levels
https://www.gov.uk/government/speeches/returning-to-a-regional-tiered-approach
As a visual aid, this graphic from PHE is a good way of seeing which areas are in which Tiers.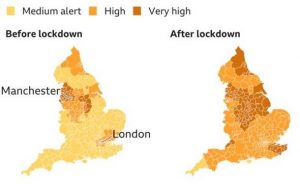 Tourism Industry Council Meeting
The next Tourism Industry Council meeting will take place on 2 December 2020 and will discuss the re-opening and introduction of the new tiers.  If you have any feedback, questions or concerns, please let me know ahead of this meeting and I raise them with the Minister.
This week's review of Travel Corridor countries has the resulted in the following countries being removed from the Air Corridor List
And the following countries have been added to the list:
Aruba
Bhutan
Mongolia
Pacific islands (Samoa, Kiribati, Federated States of Micronesia, Tonga, Vanuatu and Solomon Islands)
Timor-Leste
Both sets of changes come into effect at 04:00 on Saturday 28th November,
Updated Guidance for Restaurants Pubs and Bars
The Primary Guidance for Restaurants, Pubs and Bars has been updated in accordance with the new restrictions that apply to the different Tier levels. The specific sections that have been amended are:
NHS Test and Trace (section 2.1).
Keeping customers and visitors safe (section 2.2).
Managing service of food and drink at a venue (section 2.3)
New ventilation advice (section 2.4).
Clinically Extremely Vulnerable (section 3.1)
PPE section simplified (section 6.1).
Updated outbreak advice (section 7.1.2).
https://www.gov.uk/guidance/working-safely-during-coronavirus-covid-19/restaurants-offering-takeaway-or-delivery
PHE's weekly national Influenza and COVID19 surveillance report
https://assets.publishing.service.gov.uk/government/uploads/system/uploads/attachment_data/file/938650/Weekly_Flu_and_COVID-19_report_w48_FINAL.PDF