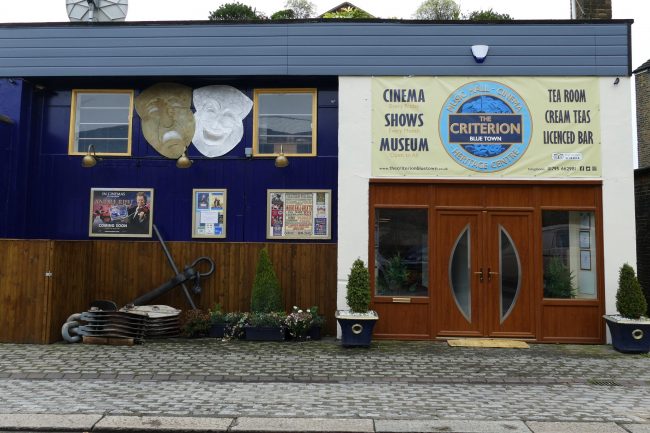 Why Blue Town Heritage Centre on the Isle of Sheppey is one of the jewels in Sheppey's crown
'Passports at the ready, we're going to Sheppey.'
These are the words an ever growing number of coach drivers and GTOs are uttering to their groups at the start of a fun-filled day out, as they head in the direction of Blue Town Heritage Centre, one of the jewels in Sheppey's crown.
You may ask, why passports? Well, thanks to its prominent dockyard, Kent's Treasure Island was so strategically important to the UK during the First and Second World Wars that one needed a full ID to cross the causeway and enter. Security has become a little less strict since then, which is very much a visitor's gain as there is so much to see, do and explore.
From links to Lord Nelson and Charles Dickens to being the site of the world's first aircraft factory, Sheppey's rich and colourful history is all explained on a visit to the island organised by Blue Town Heritage Centre.
'And of course it wasn't always this way', reminisces Blue Town Heritage Centre Founder and Director Jenny Hurkett, who originally bought the site for her kitchen and bathroom business in the 1980s. After being persuaded to organise a series of local history evenings, which went on to sell out, Hurkett noticed a niche for history and heritage days out on the island and promptly started to build what is now one of Sheppey's key attractions, whilst remaining a registered charity operated by a small flotilla of volunteers.
Prior to belonging to Hurkett, the site had been that of a hotel and an entertainment space, once being known as 'The Palace of Varieties' before being bombed in the First World War, the scars of which can still be seen today. Something which groups can see during their visit.
In addition to its main exhibition and gallery space the Heritage Centre comprises a socially distanced tea room, a music hall, archive and interactive, immersive exhibition spaces including a replica of HMS Victory's Quarter Deck for guests to explore.
Hurkett didn't just stop inside the building either, she and her team also built a guided tour enterprise, which is able to showcase the island to groups of any shapes or size.
Jenny highlights; 'Blue Town Heritage Centre has been a labour of love for me for the past 11 years. There is so much history in Sheppey that people don't realise. Not only is the island the birthplace of aviation, it's been a centre of British maritime industry for hundreds of years. We celebrate all of this and so much more at Blue Town Heritage Centre.'
The Heritage Centre is an excellent one stop shop for a day out in its own right. In their bubbles, groups can while away the hours enjoying a tour, provided by an expert guide, of centuries of naval, aviation, literary, showbiz and local history, before enjoying a fish and chip lunch or afternoon tea and a show, movie or educational talk in the historic Music Hall, provided bespoke to suit the group's needs.
For visitors looking to see more of the island during their trip, try a guided walk of Old Blue Town or a guide can join the coach for a tour of the island including a visit to Eastchurch Aviation Museum, Sheppey's historic churches and Muswell Manor (the site of the world's first aircraft factory). Again, all before a show and a scone or a fish and chip supper.
'We've got something special here, not many people realise that' she muses.
The Heritage Centre is available for exclusive use to groups from Sunday – Wednesday, with prices starting at £12 per person for a full day's excursion (min group size 20). Half day and evening excursions are also available from just £6 per person. The Heritage Centre's group sales team will work with GTOs and Coach Operators alike to craft their perfect itinerary, both with regard to subject area and timing.
The Heritage Centre is in receipt of Visit England's 'Good To Go' kitemark and adheres to all of the latest COVID-19 measures with bubbles of up to six within each group easily catered for. For smaller groups, arrange a private guided tour for only £10 per person during the Centre's regular opening hours; Thursday – Saturday, from 10am – 3pm.
Jenny concludes; 'I know your group is going to love our exhibitions, our shows and our warm hospitality. Try a visit for your next day out. I'll bet you that you'll want to return time and time again.'
And it's not just the group visitors that enjoy Hurkett's warm hospitality, coach drivers and Coach Operator representatives enjoy a free tour or the show, refreshments and lunch.
For more information or to make a group booking, call 01795 662981 between 10am – 3pm Monday – Saturday, visit https://www.thecriterionbluetown.co.uk/ or email criteriontheatre@outlook.com
-Ends-
Listings
Blue Town Heritage Centre and The Criterion Theatre Blue Town
69 High Street, Blue Town, Sheerness-on-Sea, Kent ME12 1RW
Regular Opening Hours: Thursday – Saturday 10am – 3pm
Groups 20+ Opening Hours: Flexible and on request
Regular Entry: £2 per person
Box Office: 01795 662981 (Monday – Saturday 10am – 3pm)
Email cbtboxoffice@btconnect.com
https://www.bluetownheritage.co.uk/
Coach Parking available nearby.
Registered Charity No. 1136175
For more information, images, fam trip or press trip requests, please contact Siobhan Harrison at TravelBeat at sh@travelbeat.co.uk