For your information, please find below and attached pdf of the latest updates from Government on the COVID 19 situation, this information is also available on our website www.agto.co.uk.  
Please note the revised guidance for accommodation businesses and the guidance on Quarantining. However, I would like to draw your attention to the research on the impact of social distancing on licensed premises. This work is applicable to a large number of other tourism businesses from attractions and amusement arcades, through to events, museums and conferences.
Updated Guidance for Accommodation Businesses
The Government has published updated guidance for accommodation businesses. It doesn't address the anomaly in that people are allowed to stay away from home for business purposes but accommodation providers are not allowed to offer them accommodation. However, is does say that where hotels have large grounds, these can be made available to the public as long as guidance on accessing green spaces safely is followed. Where the hotel is also providing a takeaway food and drink service, guests should not be allowed to use outdoor seating to eat and drink.  This will also help outdoor attractions and heritage properties who were, until now, not allowed to service food to people visiting their sites.
https://www.gov.uk/guidance/covid-19-advice-for-accommodation-providers
Impact of Social Distancing
I've attached a copy of a report undertaken by Knapton Consulting Engineers on the impact of different social distancing requirements on licensed premises that was produced for the Licensed Vintners Association. It compares the WTO recommended distancing of 1m with the UK Government's 2m distancing to show the dramatic difference in the number of customers a property can accommodate under these different regimes.  This severely impacts the business's ability to generate revenue and therefore, it's economic viability. This summary table is particularly important.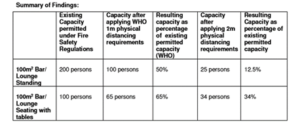 Quarantining Guidance
The Government has issues detailed guidance for transport businesses on the implementation of the Quarantine scheme that comes into force on Monday. The link www.gov.uk/uk-border-control must be embedded on transport operators' websites and they are required to ensure that passengers travelling to England by sea, air or rail from outside the common travel area are provided with information about coronavirus, and related duties and public health guidance, at 3 stages of the passenger journey:
at the booking stage
at check-in stage
on board the vessel, aircraft or train
Where the booking or check-in process is managed by someone other than the operator, it is sufficient for the transport operator to show that they have taken reasonable steps to ensure that the information is provided by that person.
The is also a requirement for plane and ship operators to undertake announcements akin to air safety announcements on the symptoms, precautions and the need to complete a contact locator form online.
https://www.gov.uk/government/publications/coronavirus-covid-19-requirements-to-provide-public-health-information-to-passengers-travelling-to-england/coronavirus-covid-19-required-information-and-exemption-periods-under-the-public-health-information-for-passengers-travelling-to-england-regulati
Mandatory Facemasks on Public Transport
DFT has announced that is asking all public transport operators – bus, coach, train, tram, ferry and aircraft – to make it mandatory for passengers to wear a face covering on their journey from 15th June when non-essential retail businesses will reopen. Public transport operators will be able to refuse travel or issue penalty fines for those who fail to wear a face covering, in a similar way to the rules on having a ticket for travel. British Transport Police will also support the implementation of these changes.
https://www.gov.uk/government/news/face-coverings-to-become-mandatory-on-public-transport
Do Face Masks Make any Difference?
Interestingly, to coincide with the requirement to wear masks on public transport, the Government has released scientific advice prepared for SAGE that concludes:
Based on the evidence from three recent systematic reviews and meta-analyses wearing face masks in the community is not significantly associated with a reduction in ILI and the overall assessment of the quality was classified as low.
https://www.gov.uk/government/publications/does-the-use-of-face-masks-in-the-general-population-make-a-difference-to-spread-of-infection-7-april-2020
Reopening High Streets Safely Fund FAQ
The Government has published a FAQ in relation to this fund which basically tells councils that they can't use the fund for public toilets, lost revenue from car parking, city ambassadors or security staff, private shopping centres and grants to businesses. Hopefully there will be further guidance on what they can use the funding for.
https://assets.publishing.service.gov.uk/government/uploads/system/uploads/attachment_data/file/890527/Reopening_High_Streets_Safely_Fund_FAQ_V1.pdf
Support for International Students
The Government has announced the appointment of Sir Steve Smith as an International Education Champion to boost the numbers of international students in the UK as well as highlighting a range of support mechanism including flexibility on visa regulations.
https://www.gov.uk/government/news/universities-minister-sets-out-support-for-international-students
Cultural Renewal Taskforce and supporting Working Groups
DCMS has published the membership of the 8 working groups that have been established to support the work of the Cultural Renewal Taskforce. The remit of these Working Groups is to:
Provide a forum for sector specialist and other experts to help develop guidance
Identify and resolve practical, sector-specific guidance-related issues
Develop a sector-wide plan for disseminating and implementing guidance
Discuss actions and updates arising from the Cultural Renewal Taskforce
Give stakeholders the opportunity to put questions and suggestions to Ministers
As you know the Tourism Industry Council has been reformed at the Visitor Economy Working Group for this work.
https://www.gov.uk/government/groups/cultural-renewal-taskforce-and-supporting-working-groups#entertainment-and-events-members
Northern Ireland Eases Restrictions
The NI Executive have confirmed the next stage of relaxation of restrictions as follows from 8th June:
Those who are shielding will be able to spend time outside with people from their own household or a person from another household whilst ensuring social distancing is observed
People will be permitted to leave home to attend to the needs or welfare of an animal or animals
Outdoor marriages and civil partnership ceremonies will be allowed, with number of people attending
limited to 10
Outdoor sports facilities will be permitted to re-open
The conduct of business by outdoor non-food retailers will be permitted, including new and used car retailers; retailers of light motor vehicles, lorries/trailers; retailers of caravans or motorhomes, and retailers of agricultural or other large machinery
The conduct of business by non-food retail outlets with lower frequency customer visits and/or with a greater propensity for larger store areas will be permitted. But only where those outlets have direct street access or direct access within a retail park.