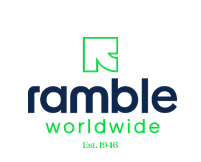 RAMBLERS WALKING HOLIDAYS SET TO EXPLORE NEW HORIZONS AS 'RAMBLE WORLDWIDE'
Two of the favourite names in walking holidays, Ramblers Walking Holidays and Adagio have come together under the new brand, 'Ramble Worldwide' to reflect the depth and breadth of their extensive portfolios more accurately. Ranging from 3-night short breaks by beautiful Buttermere in the Lake District, to 25 days exploring New Zealand and other worldwide journeys, 'Ramble Worldwide' will also incorporate the Ramblers Walking Holidays 'Cruise & Walk' programme and their recently launched 'Self-Guided Holidays'.
Covering over 300 exciting itineraries across six continents, and with a history of providing unforgettable walking holidays since 1946, 'Ramble Worldwide' will build on the Ramblers Walking Holidays proud history and experience, by continuing to deliver their popular and much-loved holidays, with the same exceptional customer service, as well as new ways to explore the world on foot.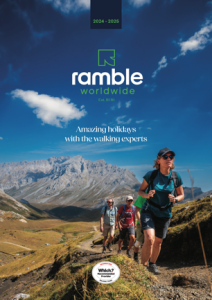 Kevin O'Regan, Managing Director commented: 'Ramblers Walking Holidays has a fantastic heritage.  Since 1946, we have been synonymous with unforgettable adventures, amazing customer service and have a superbly loyal customer base.
'Known for expertly guided holidays along the world's iconic footpaths, our product now covers a much broader range of walking options from customers joining a walking holiday for the first time to experienced hikers.   And as a Which? Recommended provider in both Escorted Tours and Walking Holidays, our customers can be assured that their holidays are always in good hands.
'Our new name 'Ramble Worldwide' highlights the exciting journey that we are taking to discover new horizons and share our passion for discovering the beauty of the world on foot.' We recognise that 'Ramble' means different things to different people, and this is reflected in our new range, from gentle strolls, national trails, worldwide journeys, and snowshoe adventures, to ending a day's walk at a vineyard sampling local wines; whilst 'Worldwide' reflects our choice of destinations, from the UK and Europe to further afield across six continents in total.
'To help agents guide customers to find the perfect adventure, we've introduced four new and distinct 'Collections' under the new Ramble Worldwide brand. These are divided into Classic, Discover, Adagio and Self-Guided with each one backed by clear descriptions and grades to guide everyone from first time walkers to loyal travellers to select the tour that best suits their needs, tastes, and walking experience.
'Our commitment to a wholly charitable ethos remains steadfast. With no shareholders, our profits are channelled into our Charitable Trust, who, since 2000 have invested £5 million into preserving the great outdoors and helping to make it more accessible to others – another vital part of our identity and legacy that will be cherished as 'Ramble Worldwide'.'
Each itinerary has been carefully categorised into the following:
Classic
Featuring iconic trails and lesser-known paths through breathtaking landscapes, the Classic Collection offers a wide range of expertly guided tours through epic scenery along popular and hidden paths; National Trails that showcase the beauty of the land and ancient pilgrim routes enshrined in history.  With over 125 holidays to choose from, options include following in Roman footsteps along the Hadrian's Wall long-distance trail, hiking through stunning alpine vistas dotting with spring flowers in Austria's Maria Alm and on Pyrenean trails to a backdrop of green valleys and the Picos de Europa's limestone peaks, as well as following some of Europe's incredible coastlines such as Portugal's Wild Atlantic Coast.
Discover
Following meticulously created itineraries, the Discover Collection delves deep into the culture of inspiring destinations all over the globe, exploring a fascinating mix of heritage, cuisine, wine, wildlife, nature, and history on guided walks. Covering a plethora of interests, the collection ranges from bucket-list destinations such as Japan and New Zealand, wintery mountain getaways on snow shoes, food and wine tours on Tapas Trails and in The Wine Villages of Alsace, to city escapes in the UK and Europe, and Cruise & Walk adventures such as A Taste of Norway
Adagio
For the perfect immersive blend of culture, guided walking, and sightseeing at a leisurely pace, the Adagio Collection features shorter walks with plenty of time to soak up the atmosphere and hand-picked quality hotels that perfectly complement each destination.  With an emphasis on enjoying the company, delicious local cuisine and wine, the holiday titles perfectly reflect the more relaxed and immersive nature of these trips – The Lazy Alps, Hidden Gems of Andalucia, Cezanne's Provence, Gardens of the Channel Islands.
Self-Guided
Drawn from its wealth of experience, Ramble Worldwide's 'designed by us, led by you' expertly tailored independent walking holidays offer a seamless, stress-free experience at 'your own pace' with all the accommodation, route planning and baggage handling organised in advance. Featuring holidays across the UK, Greece, Spain, Portugal, France and Italy, the 'Self-Guided' Collection includes wandering along classic trails such as the West Highland Way and Wainwright's Coast to Coast, hiking on European long-distance paths including The Way of St James, Galicia's Lighthouse Way and the Tour du Mont Blanc, and walks through spectacular scenery in Greece's Vikos Gorge as well as a flavoursome meander for foodies along the banks of the Dordogne.
Adding to the ease of selecting the perfect walking experience, an easy-to-follow grading system, from 1 (gentle) to 8 (challenging), helps customers select a holiday that is suitable to their level of fitness.  There is also a good selection of holidays with two grades of walking, giving customers, who are unsure of their fitness level or like the variety of mixing easy days with more challenging ones, the opportunity to try different grades of walking on the same holiday.
With 'rest' days included in most itineraries, customers have the added benefit of time to explore on their own or relax in the surrounds of their carefully chosen accommodation which ranges from locally run guesthouses to 4-star hotels that still retain that important element of local character.
All Ramble Worldwide holidays can be found on the new website www.rambleworldwide.co.uk which has details of all the holidays showcased in the new 'Collections', and great tips for those searching for a specific type of holiday for their customers, as well as in the new 2024/2025 Ramble Worldwide brochure.
For more trade information contact:
Paco Gonzalez, Sales Manager, Paco.Gonzalez@rambleworldwide.co.uk, Tel: 01707 386778
For Reservations and General Enquiries contact: customersupport@rambleworldwide.co.uk, Tel: 01707 386800
Or visit the website: www.rambleworldwide.co.uk