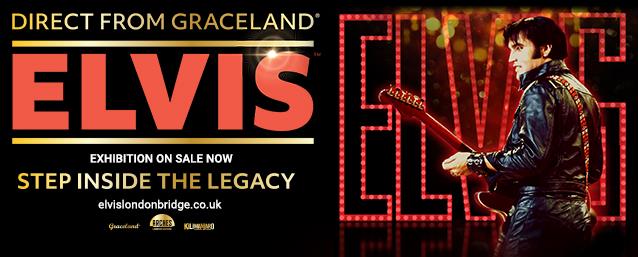 Direct From Graceland: Elvis
Group Rates Available from £20.65
Group tickets, priced from just £20.65 are now on sale for Direct from Graceland: Elvis a major new retrospective exhibition exploring the life of Elvis Presley, opening on 20th October 2023 at London's newest destination for Culture, Arches London Bridge.
Direct from Graceland: Elvis bursts open the doors of the Graceland archives featuring hundreds of treasures, over half that have never before been seen in the UK. Gain exclusive access to the life and world of Elvis Presley, in this newly curated retrospective.
Over 400 artefacts, from his prized Ferrari Dino to his iconic Gold Lamé Suit, chart Elvis's humble beginnings to his meteoric rise to fame in this kaleidoscopic chronicle of the King.
Groups (+10) tickets start from £20.65 with flexible terms and conditions in place. Flexi FIT tickets, and VIP white glove experiences are also available. The exhibition runs until Sunday 25th February.
To make a booking or for more information please contact our preferred group booking advisors Hospitality Line, by clicking HERE.
Journey through multiple gallery spaces from Elvis the man to the global sensation, the performer and movie star – and experience first-hand towering tributes to The 68 Special, Aloha From Hawaii, and Las Vegas with an immersive spectacle to relive the iconic performance. Finally, explore his Legacy and his continuing influence on pop culture from the opening of Graceland to the critically acclaimed Baz Luhrmann film Elvis (2022).
For fans who cannot make it to Graceland, Graceland is coming to you. Tickets will sell fast for this strictly limited run.
Located at 8 Bermondsey street, London SE1 2ER, Arches London Bridge is a new exhibition and performance space for London. The impressive space is five inter-connected Victorian tunnels with 6 meter high ceilings located adjacent to London Bridge station one block South of the River Thames in the heart of the tourism track. For more information click here.