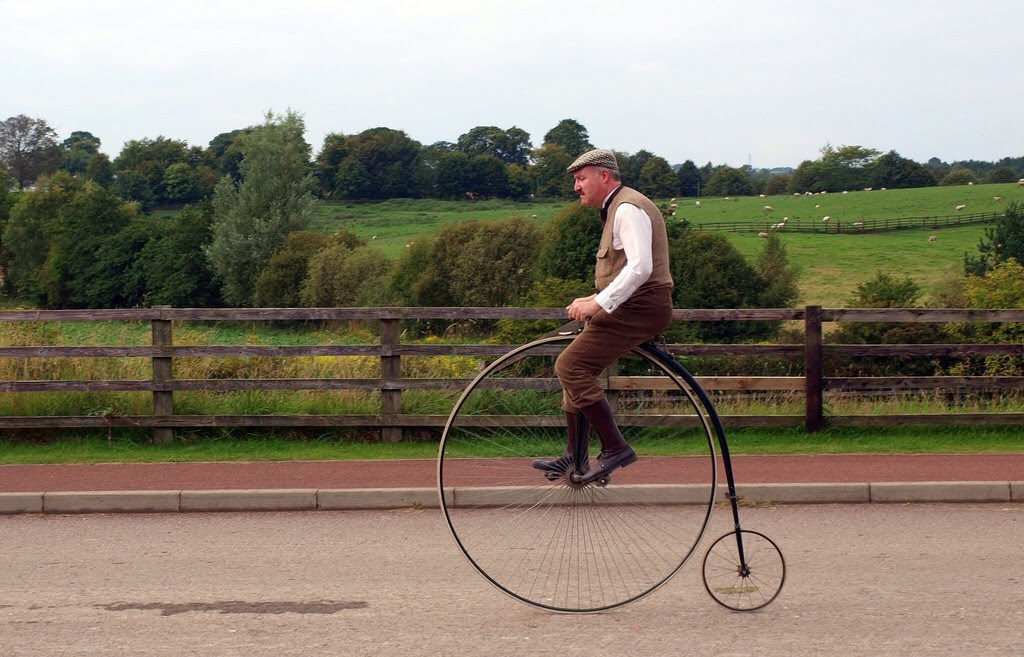 Penny farthing riding TikTok sensation crowned Durham Tourism Superstar 2023
A museum engager who has devoted almost 40 years to ensuring visitors have an unforgettable experience has been crowned Durham Tourism Superstar 2023.
Ian Bean, an engager at Beamish, The Living Museum of the North, secured the most public votes in the annual competition, which is organised by Visit County Durham, the county's Local Visitor Economy Partnership.
Ian first volunteered at Beamish Museum 37 years ago, when he was 20 years old, and has gone on to embrace many different roles at the popular attraction.
From riding penny farthings, restoring vintage vehicles and taking part in Suffragette rallies, to helping to deliver sessions for people living with dementia, marshalling events and playing the street organ – he is a man of many talents who always goes above and beyond for visitors and his colleagues.
He even appeared in the Downton Abbey film, driving the vintage bus he restored, and has clocked up more than 300,000 views on the social media platform TikTok as Penny Farthing Guy.
After volunteering as a Friend of Beamish for decades, along with his wife and two children, Ian is now an engager in the museum's 1900s Town. Dressed in his smart Edwardian outfit, he is friendly, welcoming and always happy to share his knowledge with visitors.
Duncan Peake, Interim Chair of Visit County Durham Ltd, said: "Durham Tourism Superstar is all about celebrating the shining stars of Durham's tourism industry, and Ian Bean is such a worthy winner. He has shown remarkable dedication to Beamish Museum over the last four decades and has no doubt enhanced the experience of hundreds if not thousands of visitors to our county.
"I would like to congratulate Ian and thank him for everything he has done for Durham's tourism sector. I would also like to congratulate the other finalists and nominees – you are all stars and should feel incredibly proud."
Ian will now go forward as Visit County Durham's nomination for the Visit England and Mirror Travel national Tourism Superstar contest.
Ian said: "I'm elated and stunned to have won Durham Tourism Superstar. Thank you very much to everyone who voted for me, it's absolutely fantastic.
"It's an honour to be nominated in the first place and to be shortlisted down to five and then to win is overwhelming. This represents the quality of people working in the tourism industry in Durham and, in our case, Beamish Museum.
"Working at Beamish is great, it doesn't really feel like work, if you do something you enjoy you never work a day in your life.
"It would be an honour to promote Durham and its unique and stunning attractions at the national Tourism Superstar award and to tell people how wonderful Durham is, which I'd certainly do to the best of my ability."
Rhiannon Hiles, chief executive of Beamish Museum, said: "Congratulations to our very own Durham Tourism Superstar 2023, Ian Bean.
"Ian truly has the greatest passion for the county and shows the greatest commitment and love of placing visitors first. Ian is dedicated to providing visitors with the very best experience and has been an active volunteer and staff member at Beamish for many years, being well known for taking part in events and activities, particularly with his trusty penny farthing bicycle.
"We are extremely proud of Ian and will be supporting him if he goes on to represent Durham in the national competition."
Cllr Elizabeth Scott, Durham County Council's Cabinet member for economy and partnerships, said: "Durham's tourism industry employs more than 11,000 people, alongside thousands of volunteers. It is thanks to their hard work and dedication that Durham is the amazing destination it is today, with a tourism sector that contributes more than £1 billion to our county's economy.
"Durham Tourism Superstar is our chance to celebrate the individuals at the heart of the industry and thank them for everything they do. Individuals like Ian, whose contribution to Beamish Museum is truly inspirational."
Ian was nominated for the prize alongside staff and volunteers from a range of visitor attractions. The other finalists were: Peter Robinson from Locomotion, Michelle Fenwick of Raby Estates, Jonathan Raper of Teesdale Cheesemakers and the Park Marshalls team at Diggerland.
Over the last decade, three individuals from Durham have gone on to win the national Tourism Superstar title: Emily Hope (Beamish Museum), Lillian Groves (Durham Cathedral) and Matthew Henderson (Beamish Museum).
For more information about Durham Tourism Superstar, visit visitcountydurham.org/durham-tourism-superstar/