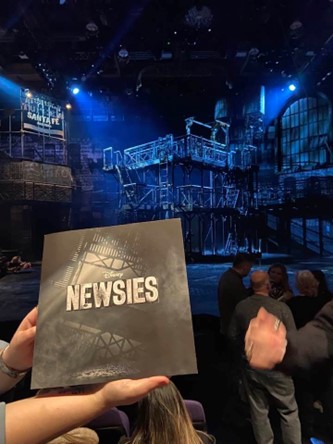 The best musical at the end of last year, NEWSIES, has just announced an extension till 30 July 2023 at the Wembley Troubadour Theatre.
Absolutely terrific dancing and a cast of superb actors who dance & sing with abundance of energy. Great set makes use of height & surrounding walkways. Actors jump & twist around the audience.
Director/choreographer Matt Cole brings the story of the 1899 strike of the children who sell newspapers on the streets of New York to the theatre. And a new star emerges: Michael Ahomka-Lindsay is an outstanding Jack Kelly, leader of the strike.
What a wonderful show. Best choreography this year and a star is born in the performance of Michael Ahomka-Lyndsay as Jack Kelly: he can sing, dance and, oh boy, can he act!
There is a new production of the iconic DIRTY DANCING at the Dominion Theatre, London. While it keeps to the story of the emergence of Frances 'Baby' Houseman as a dancer taught by the charismatic Johnny Castle and their holiday romance, it differs from the film in that more attention is paid to the sub plot in which Baby's doctor father assists at an abortion.
Great dancing and singing give this show a lot of energy and excitement.
And, of course, the amazing lift is there at the end!.
After it finishes at the Dominion Theatre on 29 April, Dirty Dancing goes on tour to Manchester, Oxford, Leeds, Liverpool, Cardiff, Stoke on Trent, Cork, Belfast, Hull, Dublin, Blackpool, Bradford, Glasgow
Carlie Newman