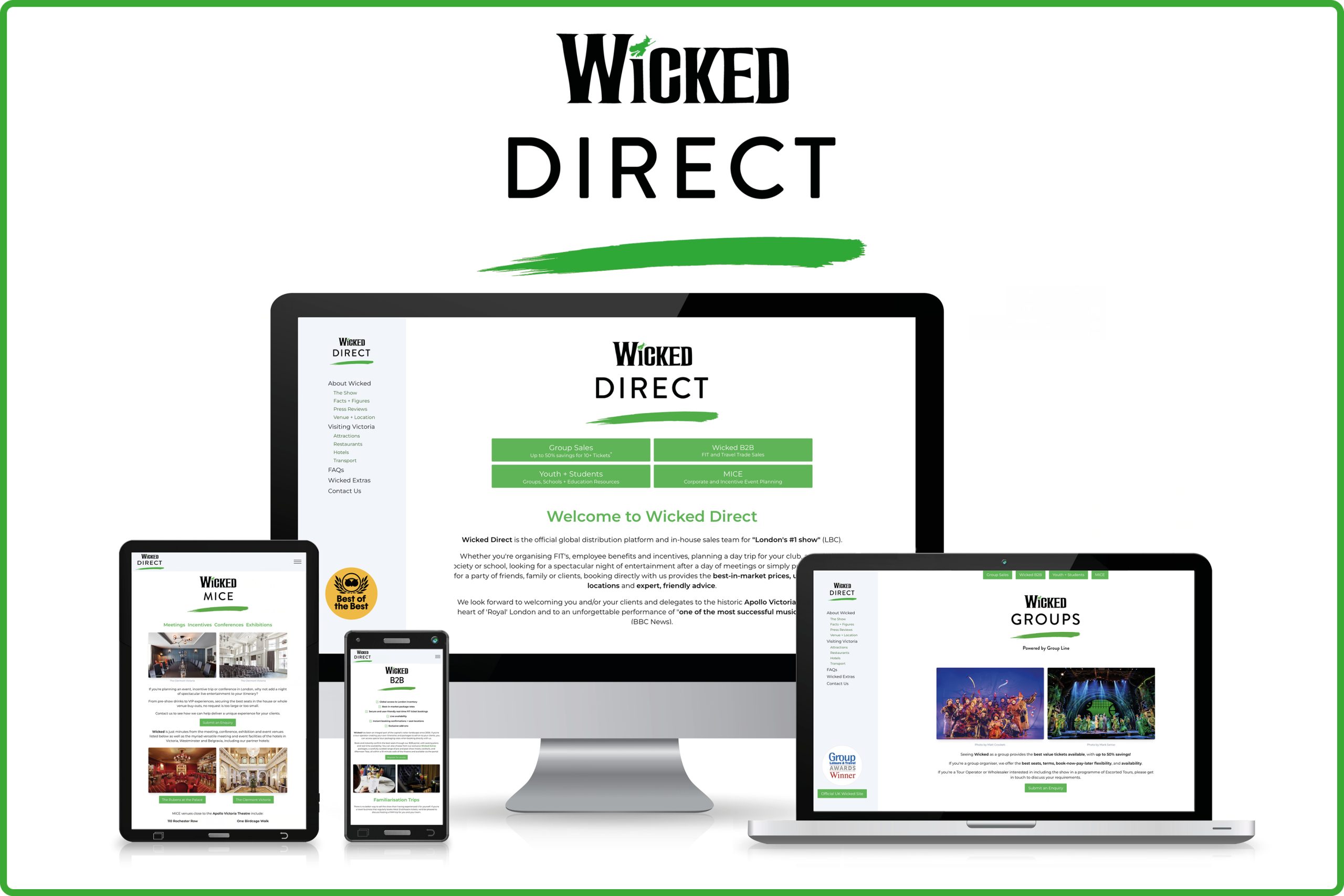 Wicked launches Wicked Direct
London stage musical 'Wicked' launches global distribution platform for the travel & tourism, corporate and group leisure industries
Jo Bachelor appointed UK 'Head of Groups & Travel Trade'.
 Group and FIT tickets now exclusively on sale to June 2024.
WICKED, "one of the most successful musicals of all time" (BBC News), today announces the official launch of its new global distribution platform for the travel & tourism, corporate and group leisure industries. Available now, Wicked Direct provides access to the award-winning musical's London ticket inventory, ensuring that booking FIT and group tickets for "London's #1 show" (LBC) is now faster, easier, and commercially more attractive than ever before.
With a 'self-service' booking portal and expert, personal support from the in-house sales team, Wicked Direct hosts four bespoke channels together with a wealth of information and resources about the show, its Royal London neighbourhood of Victoria and FAQs:
B2B: The newly live portal empowers registered travel & tourism partners to book FIT ticket reservations with ease. Wicked B2B provides secure and user-friendly real-time ticket access and availability, instant booking confirmations with seat locations, best-in-market package rates as well as the opportunity to purchase exclusive add-ons from a range of carefully selected partners to help personalise memorable travel experiences. Available 24 hours a day, 7 days a week, registration is available now via the B2B
Group Sales: powered by Group Line, the production's dedicated in-house group sales team provides everything needed for an unforgettable group or employee benefit visit to Wicked, including best-in-market rates, best seat locations, availability, terms, and book-now-pay-later flexibility. Group organisers can also purchase exclusive add-ons to compliment and personalise their group visit.
MICE: the in-house team provides the meetings and events industries with tailored experiences, combining tickets to the show with a range of exclusive extras to make business events, incentive trips, conferences, and exhibitions unique and memorable.
Youth + Students: via its new Wicked Active Learning channel, the production offers discounted tickets for school, student, and youth groups, in addition to providing official workshops and free classroom resources and lesson plans.
Now flying into its incredible 17th year at London's Apollo Victoria Theatre, tickets for Wicked are now on public sale until Sunday 26 November 2023, with the travel trade, coach operators, schools, and group organisers now additionally and exclusively able to book for all performances from Tuesday 28 November 2023 to Sunday 2 June 2024.
"One of the most popular West End musicals ever" (Evening Standard), Wicked has been a vital part of London's visitor landscape since 2006. Attracting 800,000 people a year to the Apollo Victoria Theatre, the spectacular musical continues to have a major and positive impact on the economy of its Victoria neighbourhood, particularly the multiple hospitality businesses and attractions.
The show's in-house Groups & Travel Trade team is led by Jo Bachelor, who brings over 30 years' experience within the travel & tourism sector, including as Head of Sales at Encore (now TodayTix Group) for more than 6 years.
Jo Bachelor, UK Head of Groups & Travel Trade for Wicked said:
"I'm delighted to have joined the Wicked in-house team and very proud to represent this world class product in the UK. It has been a pleasure to work directly with the producers and marketing team to redefine how our tickets are sold and packaged and we are excited to now launch Wicked Direct, offering direct access and insights to travel agents, inbound tour operators, OTAs, wholesalers, corporates, coach operators and group organisers. The dedicated sales team is pleased to provide expert help and advice and to assist in tailoring memorable group visits and FIT packages, and I am personally on hand to discuss sales opportunities with global trade professionals and partnerships with hospitality businesses and attractions, especially those located in our Victoria neighbourhood. We look forward to working with you."
Liam Geoghegan, UK Director of Sales & Ticketing for Wicked said:
"Even before the pandemic, we noted a trend amongst travel & tourism professionals requiring faster and more precise responses when booking theatre tickets, with increasing requests for a digitised sales solution. What was an emerging trend in 2019 has, in 2022, become a necessity, compounded by a very different West End landscape with fewer ticket distributors. We are therefore delighted to officially launch Wicked Direct, our web-hosted global distribution platform, providing real-time access to our London ticket inventory. Registered partners benefit from market-leading technology and direct interaction with the production's dedicated in-house sales team. With instant FIT confirmations and seat locations, booking with Wicked Direct empowers our B2B partners to fulfil their theatre ticket requests quickly and securely."
Michael McCabe, UK Executive Producer of Wicked in the UK said:
"Since our UK premiere in 2006, the support of the global travel industry and domestic group organisers has helped propel Wicked to being not only one of London's most popular and longest running stage shows but also one of the UK's most successful visitor attractions. With the launch of our Wicked Direct global distribution platform and the appointment of Jo Bachelor as our Head of Groups & Travel Trade, we look forward to forging new partnerships, driving further recovery within the travel & tourism sectors, and to continue welcoming audiences from across the world to this spectacular musical."
The Apollo Victoria Theatre, 17 Wilton Road, London, SW1V 1LG
Wicked Direct:  www.WickedDirect.co.uk
Official UK website: www.WickedTheMusical.co.uk
Twitter: @WickedUK 
Facebook: /WickedUK
Instagram: @WickedUK