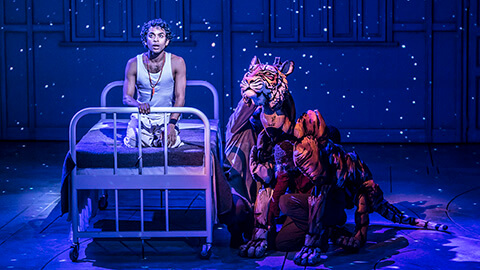 Two fantastic shows to catch:
THE LIFE OF PI
CABARET
Both of these are visually amazing.
THE LIFE OF PI
***** 
(Wyndham's Theatre, London, group bookings until July 2022. Box office for groups:  0344482510)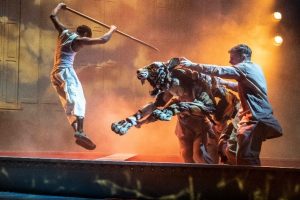 The basic story is about a teenager called Pi who, following the sinking of the ship he was on, finds himself all alone on a lifeboat apart from a hyena, a zebra, an orangutan, and a large Royal Bengal tiger who has the nickname, name, Richard Parker.  The play is mainly about Pi's survival.           .
We first meet the Tiger when he is introduced to the family and promptly bites off the head of Pi's favourite goat in his father's zoo.
Based on the prize-winning novel by Yann Martel, this seemingly difficult book to translate to the stage has been given an extraordinarily detailed set, lighting and puppetry to give the audience an amazing experience. Pi is played by Hiran Abeysekera – a lively, almost acrobatic performance.  The rest of the cast provide lots of characters who support the main story.  A fantastic array of puppetry gives us the real wow factor! There are colourful butterflies flying through the air, illuminated fish, and larger animals including a big monkey and a baby. Some puppets have 3 handlers others just one. The star is, of course, the tiger, who seems alive as he prowls the stage. All credit to puppeteers Finn Caldwell and Nick Barnes.
The lighting effects are amazing and contribute to the staging.  Not sure if it is the lighting or other stage effects but Pi on the water shows the sea moving as he sits in small raft. Technically masterful and not to be missed. This wonderfully exciting production will be admired by groups of all ages.
Visually magnificent in a completely different way – there are no puppets, but decorative actors and scenery.
CABARET
*****
(Kit Kat Club at the Playhouse Theatre, London booking until 1 October  2022. Box office: 020 7836 8463)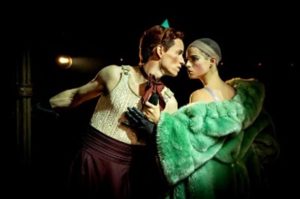 Not so much a show as a live experience!  From the time you enter the theatre, you are in the world of the Kit Kat club, a cabaret club in the Weimar-era in Berlin. Shown into the bar area, we are given a free tiny glass of schnaps, with the opportunity to purchase more drinks if wanted! There are performers twirling around poles and dancing in front of us. From there into the theatre – all laid out like a nightclub.  People at the front, sitting at tables, can purchase food and drinks. Those of us halfway up can buy drinks. More performers before the main show commences.
And what a show.  Eddie Redmayne is magnificent in the part of the Emcee.  His whole body twists into the most astonishing shapes.  Charismatic and gorgeous to look at, I was amazed to hear his voice which has a lovely sound.  He is matched by the sublime Jessie Buckley who gives an emotional and very moving performance as Sally Bowles.
Covering the late 1920s to the rise of the Third Reich we meet Sally Bowles, who tries hard to be a singer, but has to work in a somewhat seedy nightclub.  Rooming with her new friend, Clifford (Omari Douglas), we meet other residents of the boarding house.  Chief amongst them is Fraulein Schneider (Liza Sadovy) who owns the house and her Jewish beau, Herr Schultz, who really loves her, but his religion becomes a barrier to their future together.
Director Rebecca Frecknall manages to put together a musical that is rich in memorable songs and give us a real story with wonderful production set pieces including a lot of boisterous choreography and, of course beautiful singing by all the cast, particularly Buckley and Redmayne. Lighting, costumes and set design enhance the world of the nightclub. This is another one for groups, but this time for adults only!
If you see only one show in London in the next couple of months, make it this one.  It is expensive, but it is truly a magnificent animal!
Carlie Newman