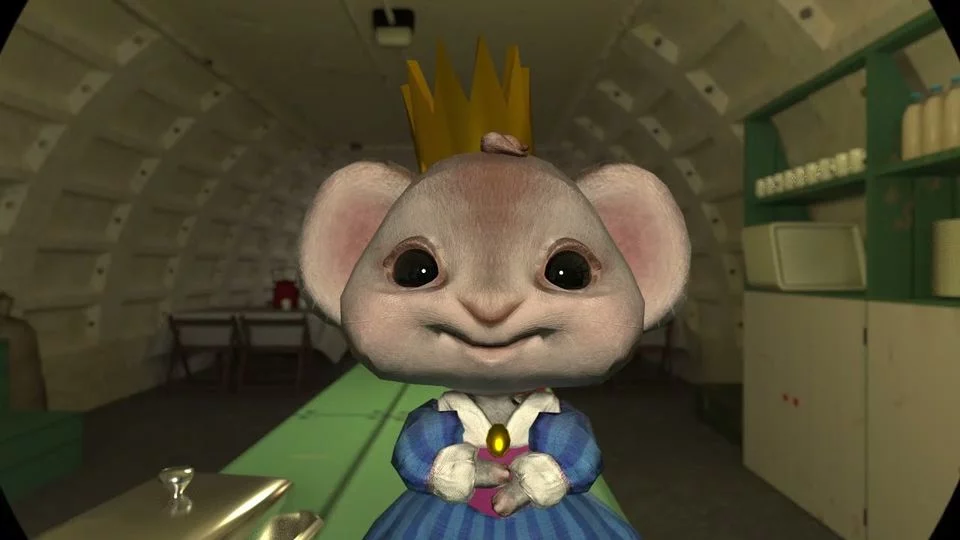 New virtual reality game from London Transport Museum and Musemio takes kids on a secret underground adventure

New fun interactive game lets pre-teens travel back in time to a subterranean world below Clapham South Tube station 
Players join 10-year-old Margaret, Queen Mouse and Grumpy Teddy on a time-travelling quest
The secret history of war-time sheltering is brought alive by putting the child at the centre of the learning experience
The new game can be played on the Musemio app. It can be downloaded through the App Store and Google Play, users should then log in to the app and search for the name "Secret Shelter Challenge: time-travel deep underground" in the Spotlight Section
This new experience is an innovative co-creation between Musemio and London Transport Museum and reflects both organisations' missions to make culture more accessible to children  
A new fun virtual reality (VR) educational game will help children experience what is was like to seek safety by sheltering deep underground while bombs dropped over London during the Second World War. This new experience was created by 'Musemio', an award-winning immersive app company for children specialising in the cultural learning sector and London Transport Museum historical experts. The game offers both mobile VR with a brightly coloured cardboard viewer headset and 2D gameplay.
Musemio always puts children at the centre of game design. The app is designed for children aged 8-11 with a curious and open mind. The children who put the app to the test during trial sessions, said:
'The mouse is very cute.', 'I like the tiny bits in the portal!', 'I liked the bit where she [Margaret] was talking about her life, her family.', 'Fun, exciting and adventurous'.
In this immersive and innovative game, the player is invited to travel through time to 1944, reliving accounts from families staying at Clapham South deep-level shelter while Britain was at war and discovering their secrets. Together with schoolgirl Margaret, the player meets fictional characters such as Queen Mouse and Grumpy Teddy on a quest to recover the secret passcode to keep the time machine portal open.
The 'Secret Shelter Challenge: time-travel deep underground' game is fully interactive and players complete a variety of challenges that involve quizzes, riddles and a scavenger hunt to unlock the hidden past of the Clapham South deep-level shelter in south London. Musemio's unique movement style allows players to move smoothly around the game-world with in-built control and with a simple click of a button or tap of the screen players can interact with objects and characters they encounter.
As part of its exclusive Hidden London programme, London Transport Museum runs in-person guided tours of disused Tube stations which are aimed at adults and older teens. The Hidden London tours include the intriguing Clapham South deep-level shelter. This unique historical space which is made up of almost a mile of 'lost' tunnels is not currently accessible to children aged thirteen and under. This is due to the challenging nature of this almost deserted space with many steps and dark and dusty passages. Visits for younger children may be possible in the future, however, right now the game is the only possible way for kids to get a glimpse of what life in the deep-level shelter must have felt like.
The Museum's Hidden London historical experts and Learning team collaborated with Musemio to bring this important war-time story to life. Historic photos and videos of the shelter allowed the Musemio team to recreate and interpret the space, maintaining the dimensions and overall atmosphere of the shelter. The storytelling aspects of the game set out to deliver an exciting but factually accurate historical account with a hint of magic to evoke curiosity and inspire children's imaginations.
Chris Nix, Assistant Director of Collections and Engagement at London Transport Museum, said: 'Through this new virtual reality app we've brought the secret history of Clapham South deep-level shelter to life for a new younger audience. Kids are going to love exploring the maze of spooky tunnels with little Margaret, Queen Mouse and Grumpy Teddy.'
Fenella Goodhart, Head of Learning at London Transport Museum, said: 'As well as being great fun, the "Secret Shelter Challenge: time-travel deep underground" game is a really good learning tool for eight to eleven-year-olds. This lively immersive game will help children understand what life was like for previous generations during the Second World War.'
Olga Kravchenko, Founder and CEO of Musemio, said: 'I'm so excited about our latest partnership with London Transport Museum. Our Musemio team provided the technological creativity and know-how and fused this with the magical history of the secret tunnels at Clapham South.  This new "Secret Shelter Challenge: time-travel deep underground" game offers both mobile VR and 2D gameplay which we know kids love.'
London Transport Museum was keen to work with a progressive organisation like Musemio as their aim to make culture available to everybody mirrors the Museum's own ambition to be more inclusive.
Elizabeth McKay, Chief Operating Officer for London Transport Museum, said: 'Since meeting Musemio's founders over two years ago we've been impressed with their innovative approach to gameplay and mission to make culture more accessible to children which aligns with our own aims. Musemio's mission is a good fit with our own ambitions and we hope this is the start of ongoing collaboration to ignite children's curiosity.'
The main characters in the game
Margaret, a 10-year old girl, who helps the user to find the missing passcode. Margaret's character is based on a number of real children who lived in deep-level shelters during the Second World War. She has a big family and all of them moved to the shelter after their house has been destroyed by a bomb in 1944. She is very smart and maintains a mischievous smile and a positive attitude despite the challenging wartime circumstances.
Queen Mouse is a fictional character, who knows about everything that is happening in the shelter. She loves delicious jam sandwiches and is a bit tired of hiding from all the people coming and going, so meeting the user and Margaret makes her very excited. The voice of Queen Mouse belongs to Siddy Holloway, Hidden London Engagement Manager, Co-presenter of Secrets of the Underground TV series, actress and voice over artist.
Grumpy Teddy is a mysterious fictional character who lives behind the door. Grumpy Teddy is grumpy because he's been forgotten by one of the young visitors, however, deep down he is very kind and always willing to help. Especially in exchange for jam sandwiches.
Mio is Musemio's friendly robot mascot that maintains Musemio's time machine. Even though Mio has access to a supercomputer, sometimes Mio gets into trouble and needs Explorers to help (like helping fix the time machine or a bug within its system, or forgetting to collect a crucial artefact from the past). Mio is always there to help and is never shy to give the Explorer tips or new exciting knowledge.
The new 'Secret Shelter Challenge: time-travel deep underground' game is available as an in-app purchase as part of the free Musemio app, at £2.99 per download. After purchasing the experience, the user will be able to play it as many times as they want, uncovering the new details every time. See links below:
https://apps.apple.com/gb/app/musemio/id1507921643
or
https://play.google.com/store/apps/details?id=com.Musemio.Musemio
or 'Scan the QR code below to download Musemio App'