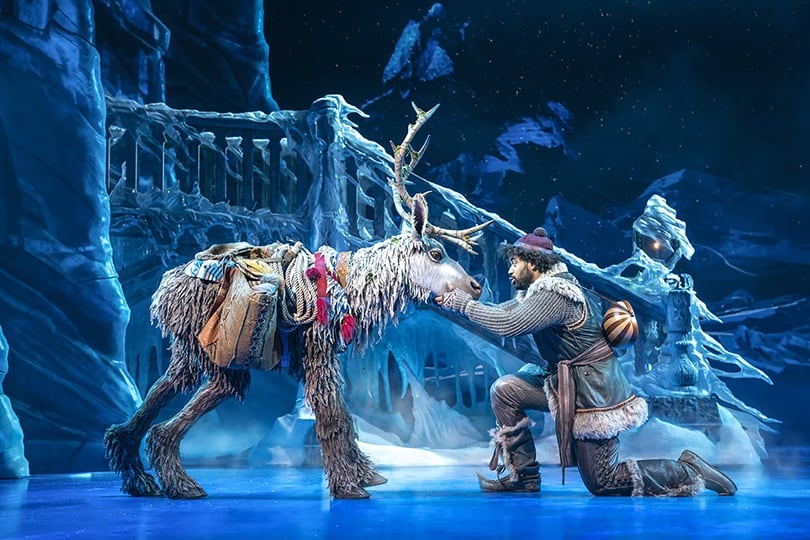 Two shows that you mustn't miss!
Very different shows but both are worth a visit.
Indecent
*****
Menier Chocolate Factory, London until 27 November. Box office: 020 7378 1713
The little gem that is the Menier Chocolate Factory Theatre puts on plays and musicals that are always worth seeing.  But Indecent actually surpasses many of the previous shows.
The play shows how Sholem Asch's first play. God of Vengeance, written in Yiddish in 1907, was presented in various European cities over the years and what happened when it finally appeared on Broadway in translation.  This production shows snippets of the play as it explains the history of its journey.
Seven actors along with three musicians playing klezmer music take the stage.  The actors take on multiple roles with Finbar Lynch giving a very special performance as Lemml, a member of the group of actors, who constantly supports the writer and his play. The play has as its main theme the love between two women and it is that which causes consternation when it arrives on Broadway.  The whole cast is arrested and accused of obscenity.  It became famous for showing the first kiss between two women on stage.
Written by  Paula Vogel and directed by Rebecca Taichman, it has scenes alternating between lively dancing and singing and very dramatic ones. The whole cast is tremendous and scenes such as dust falling off the sleeves of the characters' coats as they go through the holocaust and rain falling on the two women lovers will remain in our minds for many a year.
More moving than the current favourite Leopoldstadt, with incidents that have relevance at the present time, this is certainly one to be savoured.
Frozen
*****
Theatre Royal Drury Lane, London  booking until 26 June 2022.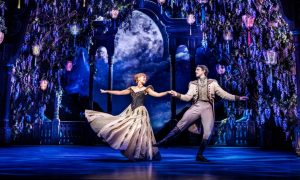 This must be the most beautiful show in offer.  Not only is the production itself visually stunning but the setting within the newly re-furbished Theatre Royal Drury Lane is exquisite.
Based closely on the extremely popular 2013 film, the musical staging sets out to provide something extra.  And it certainly succeeds.  The tale of the two sisters who become estranged as everything that Elsa touches turns to ice, and she is afraid that she will harm her sister Anna. Although lively with lots of dancing and spectacular show stopping moments, the show manages to give poignancy to the relationship between the two sisters.
When older Anna (Stephanie McKeon) sets out to find and help Elsa (Samantha Barks), we meet other characters; Kristoff (Obioma Ugoala) who sells ice; Hans (Oliver Ormson), who becomes Anna's fiancé and Sven, the Reindeer (a delightful puppet), as well as Olaf the snowman (manipulated by Craig Gallivan).  All well thought out, in super costumes and giving amusing performances.  There is a very funny scene where seemingly naked Nordic locals appear to be naked as they dance out of a sauna!
We are given scene after scene of bewitching sets – including an ever-extending bridge, and a lovely icy kingdom.  The whole production is just perfect – from the costumes, including one amazing quick change, to the sets and performances and lighting.  Songs are well sung with Samantha Barks giving us a particularly heart-rendering version of Let it go.
 You might think the show is for children and while kids over say 8 will really enjoy it, has lots to appeal to all of us.
– Carlie Newman