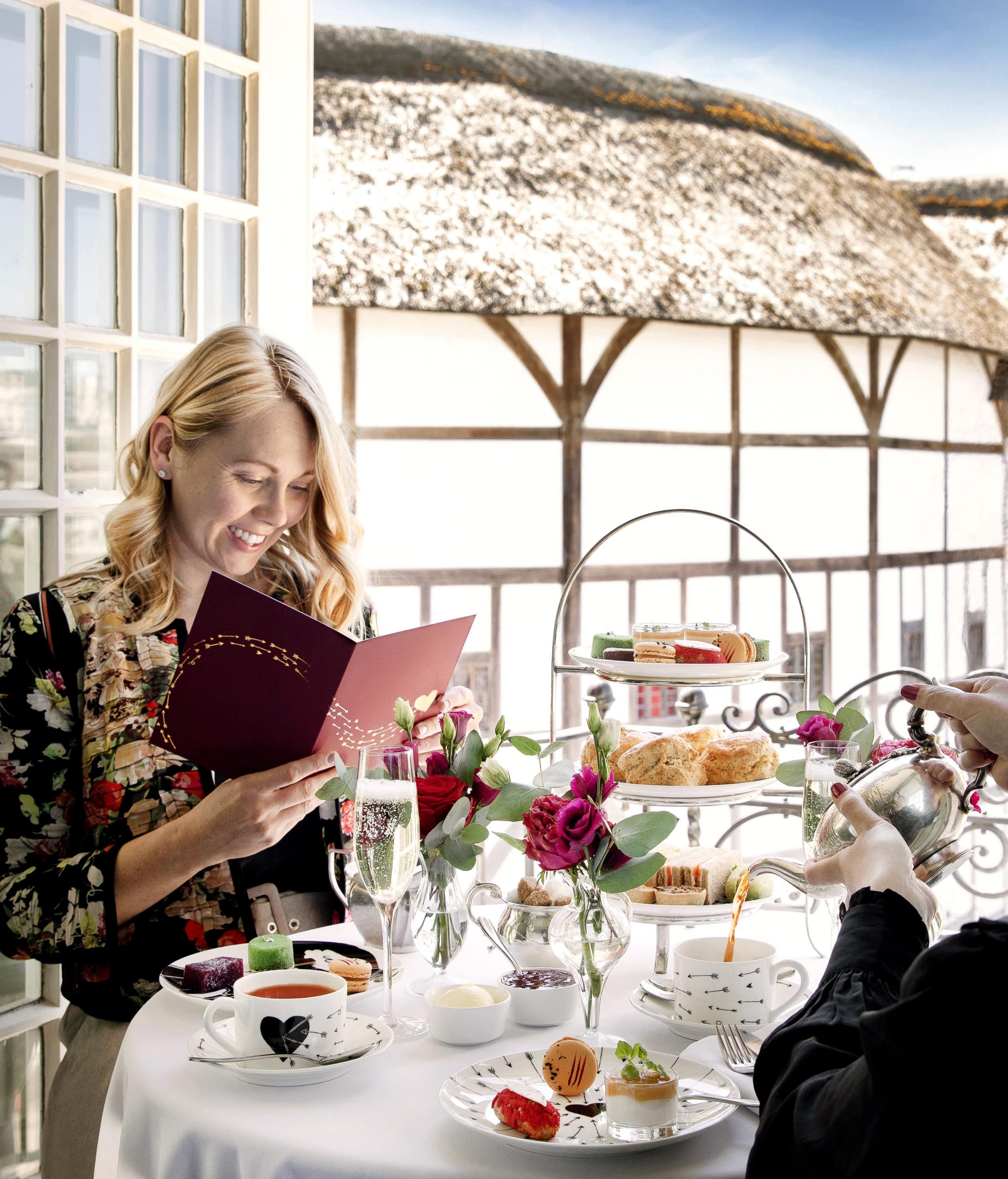 Swan at the Globe launches Romeo and Juliet afternoon tea for groups and the travel trade
Swan at the Globe, one of London's most unique restaurants, situated at Shakespeare's Globe Theatre on London's bustling Bankside, has today launched its travel trade and group friendly 'Romeo and Juliet' inspired afternoon tea, as part of Afternoon Tea Week (9 – 16 August).
The launch marks the first time that the travel trade and groups have been able to book stand-alone afternoon teas directly with the Swan team, although packages which include a tour of Shakespeare's Globe are also available. Groups and trade partners can take advantage of a range of options such as including a glass of English Fizz or a themed cocktail, incorporating flavours from Shakespearean times and themes from Romeo and Juliet.
The brand-new afternoon tea, which comes with a theatrical twist, is inspired by the beauty and lyricism of Shakespeare's great tragic love story, Romeo and Juliet, which visitors can also catch on stage at The Globe until 17 October.
With stunning views overlooking the River Thames and St. Paul's Cathedral, the Swan is a perfect place to sit down and enjoy afternoon tea, whether that be as part of a cultural day out along London's South Bank, a theatre break or a longer period spent exploring London's many heritage gems such as The Globe.
The Romeo and Juliet afternoon tea fuses seasonal British produce with interactive cocktails, traditional afternoon tea treats and Italian specialities, named after some of Romeo and Juliet's most famous quotes including 'A rose by any other name', 'My true love's passion' and 'Thus with a kiss'. The tea is served on bespoke crockery, designed exclusively for Swan at the Globe, with vegetarian, vegan and gluten free options available. The menu is locally sourced in line with the Swan's sustainability policy.
Benoit Massoneau, Operations Director at the Swan said "As we launch this new themed afternoon tea, we are delighted to also be sharing our brand-new afternoon tea concept with travel trade partners and groups. As we continue to navigate this particularly difficult time together, we want to show that we are supportive of the industry and will do all we can to welcome groups and tour operators' clients to the restaurant with open arms. My team and I are more than happy to be flexible to suit the needs of you and your clients. We know all of our guests are in for a treat when they visit, no matter whether that be for afternoon tea, a pre-theatre dinner or a casual lunch and they can rest assured that we are following all possible COVID-19 guidelines."
Cedric Tourainne, Executive Chef at the Swan said "My team and I worked hard but had great fun designing the Romeo and Juliet afternoon tea. The play gave us so much inspiration that it was hard to narrow down the themes and flavours into just one menu. With flavours of spiced pear and medlar, dark chocolate, peppermint and wormwood and raspberry & lychee sitting alongside more traditional scone, clotted cream and jam pairings we've created an experience that we know guests will remember."
Menus and groups and trade pricing are available upon request from reservations@swanlondon.co.uk
Listings Information
Romeo and Juliet afternoon tea
Swan at the Globe
21 New Globe Walk,
Bankside London SE1 9DT
Served Monday – Saturday 12pm-6pm | Sunday 12pm-5pm
Retail rates from £32.50.
Group and trade rates are available upon request
To 020 7928 9444
reservations@swanlondon.co.uk
About the Swan
The Swan at the Globe opened its doors on London's Bankside in early 2007. The restaurant has looked after the Globe theatre's onsite bar, restaurant, café, event spaces and tap houses ever since. The Swan's seasonal, modern British menus are inspired by and made with some of the best English produce from Borough Market and beyond, and with the venue's enviable views of the River Thames and St Paul's Cathedral, Swan at the Globe is the first act for any discerning visitor to the theatre.
Situated at the theatre on London's bustling Bankside, the Swan serves morning coffees to evening cocktails and everything in between, including breakfast and brunch, lunch, afternoon tea, pre-theatre and a la carte dining. The restaurant's ethos is driven by produce, the team source seasonal ingredients from England's best farmers, greengrocers, butchers and fishmongers to craft its bar and restaurant menus. Swan at the Globe is also home to two stylish and exclusive event spaces, where you can host immersive parties, inspiring meetings, dinner dances and even weddings.