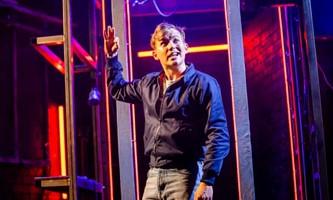 THEATRE TIP FROM AGTO CRUISE at Duchess Theatre
THEATRE TIP
Absolutely amazingly good to be back in the theatre again. Seeing a show live is so much better than the on-line theatre offerings – even though some have been very well performed. You can't beat the true theatrical 3D live show.
It's great that the first play out of full lockdown is CRUISE (Duchess Theatre, London. Box office: 0330 333 4810 (until 13 June then streaming from 14 to 27 June.) Jack Holden is the only one on stage but after a very short time, you forget that as he peoples the stage with a variety of characters to illustrate his tale of the 80s gay scene.
Jack Holden has written the play as well and he demonstrates a good attention to detail. Ably directed by Bronagh Lagan, Holden plays himself, a now 30-year-old-volunteer on Switchboard – an LGBT listening service. When he was 22 and new to the phone service, Holden answers a call from Michael, who is a middle-aged man who really wants to talk to an older person. However, the two form a connection and Michael gradually tells Jack about his past.
Michael leads a lively life full of sexual encounters with a variety of male partners until he meets the love of his life. It's the time of the Aids virus and very sadly both men contract the disease. At this time anyone who got Aids had little chance of surviving and both men expect to die. Given a timescale of four years they resolve to live it up. What happens and how Michael tells Jack that it is now his last day on earth forms the bulk of the story.
Wonderfully acted by Jack Holden, we feel for all the characters who are brought so vividly to life on the stage here. He is helped by the live electronic music composed and played on stage by John Elliott.
The set is a metal structure with a revolving middle structure. Lit with a succession of lighting effects by Jai Morjaria that greatly add to the atmospheric feel of the period and particularly of a brightly lit Soho.
Although a solo performance plus musician, we certainly feel as though we are attending a complete play. Wonderful beginning to our theatre re-building.
Carlie Newman