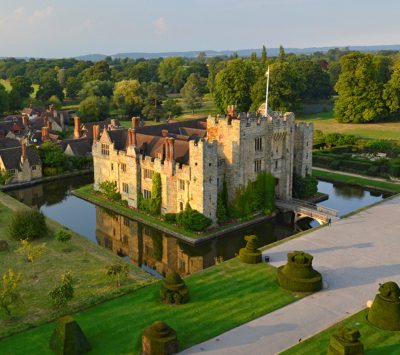 Hever Castle Press Diary 2021 for Groups & Special Offer
Hever Castle & Gardens is delighted to be working with Group Organisers and Travel Trade partners again.
Bookings are now being taken for 2021 with changes to processes and procedures in line with the government's COVID-19 regulations.
Groups can enjoy a special offer of booking for 2021 at 2020 prices (if booked by the end of this year).
Selection of Special Events Recommended for Groups in 2021:
All dates and details correct at time of printing. Please check website for up to date information.
Snowdrop Walk: From 10 February (weather dependent)     
Follow a trail of thousands of snowdrops starting to emerge from their winter hibernation – the first sign that spring is just around the corner. Then stroll through the gardens and enjoy the early
blossoms of camellia and quince.
Dazzling Daffodils: 15 – 19 March
Be dazzled by the bright sight of thousands of daffodils and find out more about the cheery spring bloom at this event with free garden tours (tbc).
Tulip Celebrations: 19 – 25 April
Follow the trail throughout the grounds with special varieties to look out for and new areas planted. Free garden tours are also available and many of the Castle rooms will be filled with floral arrangements too.
Hever in Bloom: 21 – 27 June   
Experience the quintessential English Rose Garden at the height of its summer beauty with guided tours of the award-winning gardens and a floristry workshop with Hever's florist. Many of the Castle rooms will be filled with stunning floral arrangements created by our florist and garden team.
Craft Fair:  9 –12 September
New contemporary craft and design event in conjunction with Craft in Focus.
Autumn Colour: From 1 October
As the air turns crisp and a rich display of autumn colour envelops the countryside head to Hever Castle to enjoy the spectacular autumn tints. The Castle is at its most photogenic during the autumn months when the Boston ivy on the front turns a vivid shade of red.
Christmas at Hever Castle:  27 November – 12 December (Wed – Sun) and 13 – 24 December (Daily)
Beautifully decorated Castle rooms, welcoming log fires and twinkling Christmas trees celebrating the traditions of Christmas. Enjoy relaxed Christmas shopping in the gift shops, and sample delicious festive food in the restaurants. As dusk falls, the gardens are magically illuminated with up-lighting and colour washes.
2021 Admission Prices (if booked by 31st Dec 2020) and Opening Times for Groups:
Group rates for 15 or more persons when the group arrives in the grounds together. The total must be paid in one amount. Entry price includes admission to special events except where stated.
We welcome visitors with disabilities and offer discounted rates for groups who have a special need.
Gardens only: 
Adult: £11.70
Senior: £11.25
Student (16-19): £9.30
Child (5-15): £5.15
All visitors need to pre-book tickets to visit the grounds and can then upgrade to a Castle ticket at the Castle entrance if required. Both measures are designed to limit the number of visitors and manage social distancing.
2021 Opening Times:       
Early Spring Season:   10 February – 28 March (Daily)
Grounds open at 10.30am, Castle opens at 12 noon, final entry is at 3.00pm, final exit at 4.30pm.
Main Season:               29 March – 30 October (Daily)
Grounds open at 10.30am, Castle opens at 12 noon, final entry is at 4.30pm, final exit at 6pm.
Winter Season:            31 October – 26 November (Wed – Sun)
Grounds open at 10.30am, Castle opens at 12 noon, final entry is 3pm, final exit at 4.30pm.
Christmas:                   27 November – 12 December (Wed – Sun)
13 – 24 December (Daily)
Opening times for Christmas are TBC
Winter Walks:             27 December – 3 January (Daily)
Opening times for Winter Walks are TBC
We have a long established reputation for offering excellent service to group travel organisers and the travel trade. Our Group Visits Co-ordinator is available to help plan a unique and memorable experience for your group on Tel: 01732 861701; Email: groups@hevercastle.co.uk. Office hours: Monday – Friday, 9.00am – 5.30pm.
– ends –
Notes to Editors:
You can download high res images from this Dropbox link (please credit Hever Castle & Gardens):
https://www.dropbox.com/sh/kc4u0k670f97k80/AAC619JgpALsMo-bofLPQqYKa?dl=0
For PR & Marketing, please contact:
Helen Francis, PR Executive on Tel: 01732 861709; Email: hfrancis@hevercastle.co.uk or
Sarah Cole, Marketing & Communications Manager on Tel: 01732 861710; Email scole@hevercastle.co.uk