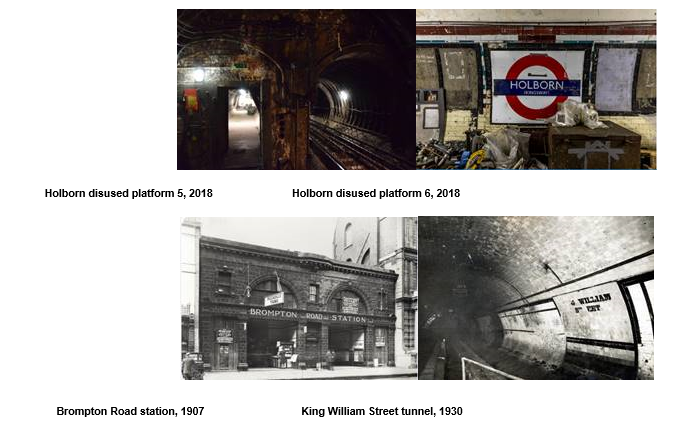 Explore London's secret history from your couch
London Transport Museum launches new
Hidden London virtual guided tour of Holborn (Kingsway)
Tickets go on public sale on Friday 23 October 2020
Don't feel abandoned at home, join a virtual tour of a secret underground tunnel with a real guide
Experience a hidden side of London from anywhere in the world – ideal for overseas 'visitors'
Discover the history of Holborn (Kingsway) – an area known for high crime and slums at the turn of the century with a brand new virtual tour
More tour dates added to Brompton Road – the Piccadilly line station used as a secret bunker by Britain's Anti-Aircraft Division during the Second World War and King William Street station, the original but long-abandoned terminus for the Northern line
New Secrets of Central London walking tour dates to go on sale on Friday 23 October
Virtual visitors can Zoom in from the comfort of their sofas – which in these travel restricted times could be anywhere in the world – and be transported to a subterranean world of shadowy tunnels and secret spaces with Hidden London's new virtual tours of the Holborn (Kingsway) area, Brompton Road station and King William Street station. Tickets will go on public sale on Friday 23 October for tour dates in October, November and December 2020.
On these digital tours, guests will be walked through a gallery of contemporary photos, videos, never-before-seen footage as well as archival images from London Transport Museum's collection while their expert guide reveals fascinating facts and tales about these 'forgotten' parts of London Underground and trams.
Some of these hidden locations such as Brompton Road station and King William Street will never be open to the public. This is because they have extremely limited access making public tours a practical impossibility. However, with these digital tours people get a chance to step into a forbidden part of London's history.
NEW TOUR – Holborn (Kingsway): three sites in one tour
In 1898 the London County Council (L.C.C) decided to completely redevelop the area in London we now know as Kingsway and Aldwych. The area, then known for its high crime rates, slum housing and establishments of ill repute, was to become a new business district for London with wide boulevards and grand office buildings. This required new public transport to bring people to and from work and in response the L.C.C. built a tram subway underneath Kingsway itself, to facilitate interchange between south and north London trams.
At the same time, the Piccadilly line was burrowing its way through London, with a station at Holborn to serve the newly constructed district, and a branch line down to Aldwych to serve the many theatres of Covent Garden.
The Kingsway trio is a brilliant example of how public transport unlocked parts of London previously inaccessible at the turn of the 20th century, and how these spaces adapted and changed when they were no longer required to serve their original purpose, often in very unusual ways.
Led by an expert guide who will use never-before-seen footage, guests will join an exclusive virtual tour where three abandoned structures are explored; Kingsway – which includes the only underground tram tunnel in the country, Aldwych and Holborn. Participants will learn how this new infrastructure opened up what we know today as the West End.
Brompton Road station
People can Zoom into Brompton Road station and discover, how, during the Second World War, the station was used as a top-secret control centre and bunker for Britain's Anti-Aircraft Division.
Located between Knightsbridge and South Kensington stations on the Piccadilly line, Brompton Road station was closed in 1934 after the Piccadilly line was extended. It was closed along with stations such as Down Street and York Road as they were only lightly used.
King William Street station
Closed in 1900, King William Street was the first station to become 'disused' on the London Underground and guests can find out about its short life before it closed. The station was the original but short-lived northern terminus of the City and South London Railway (CSLR), which was the first deep-level underground railway in the world. The CSLR, which originally ran from King William Street to Stockwell now forms part of the Bank branch of the Northern line.
This special behind-the-scenes virtual tour lets viewers see what the disused station looks like today and how it is being used during the current Bank station extension project.
Chris Nix, Assistant Director of Collections and Engagement at London Transport Museum, said: "The great thing about our new Hidden London virtual tours is that you get to experience a secret side of London's past without stepping outside your front door.
"Due to restricted access, some of these disused underground spaces, such as Brompton Road and King William Street stations will never be open for public tours, so these digital tours are the perfect opportunity to get as close as possible to the real thing. Our expert guides will walk you through archive photos, videos and never-before-seen footage as well as answering your questions."
Hidden London walking tours: secrets of central London – currently running until 20 December 2020
Those wishing to stretch their legs can join expert guides with a walking tour of Covent Garden, Kingsway, Lincoln's Inn Fields and Victoria Embankment. See link to buy tickets for more details. https://www.ltmuseum.co.uk/whats-on/hidden-london/walking-tours
The Hidden London virtual tours and the Hidden London walking tours are £20 per ticket and £17.50 for concessions. To book a ticket go to www.ltmuseum.co.uk/hidden-london and for further information please email bookings@ltmuseum.co.uk
Hidden London hangouts on YouTube – live each Saturday at 18:00
Hosted by self-confessed Tube geek and broadcaster Alex Grundon, each episode is a light-hearted discussion with the Hidden London team about the tours they create and the tales they have about these subterranean spaces and other unknown facts and stories of a hidden London.  New episodes go live on London Transport Museum's YouTube channel every Saturday at 18:00. Visit www.youtube.com/ltmuseumvideo to see up and coming as well as previous episodes.
Hidden London book
People wishing to own a bit of disused station history can treat themselves to a new illustrated Hidden London book (Hardback, £25) published by Yale University Press and on sale at London Transport Museum's shop in Covent Garden, online at www.ltmuseumshop.co.uk and other stores nationwide.
London Transport Museum's new Hidden London virtual tours were launched in extraordinary times. Every ticket purchase helps support the future of the Museum.
The Hidden London in-person tours of disused stations are currently on hold. The Museum hopes to re-start the tours in 2021.
Subscribe to London Transport Museum's newsletter for advanced booking opportunities for Hidden London virtual tours, walking tours and up and coming events. Go to www.ltmuseum.co.uk for more information.
London Transport Museum in Covent Garden is open to the public and visitors can once again explore its popular award-winning Hidden London exhibition in the Global Gallery. Revealing the mysteries of the Capital's 'abandoned' Underground stations, this atmospheric exhibition, delves into the secret wartime histories of Down Street and Clapham South as well as the creative ways forgotten subterranean spaces are being adapted for today's world. By popular demand the exhibition has been extended until the end of 2021. To book ticket and timed entry visit: www.ltmuseum.co.uk
For media enquiries, images and interviews contact:
Candice Jones – PR and Marketing Manager
Mobile: 07711 345 509
Email candice.jones@ltmuseum.co.uk, claudia.pearson@ltmuseum.co.uk or
Notes to editors
The Museum is open with the majority of its interactive exhibits accessible for people to enjoy, but to ensure people's safety access to a number of vehicles and parts of the All Aboard play zones will be limited and the stamper trail is not be in use.
London Transport Museum has received Visit Britain's 'Good to Go' standard and have measures in place to keep people safe during their visit. These include:
New pre-visit information to help people plan ahead
New one-way routes to explore with updated signage
Queuing systems to help people social distance
Hand sanitiser stations throughout the venues
Enhanced cleaning regimes with anti-viral disinfectant that protects for up to 30 days
Cash-free contactless payments
PPE for staff
Adults and children aged 11 and over must wear a face covering when visiting both the Museum.
In social media posts please tag:
About London Transport Museum
London Transport Museum's purpose is to ignite curiosity to shape the future. The Museum is situated in the heart of Covent Garden and filled with stunning exhibits; the Museum explores the powerful link between transport and the growth of modern London, culture and society since 1800. Historic vehicles, world-famous posters and the very best objects from the Museum's extraordinary collection are brought together to tell the story of London's development and the part transport played in defining the unique identity of the city
The Museum is a charity and the world's leading museum of urban transport and a place for everyone to come to understand and enjoy the story of London's journey. No other capital city is defined and shaped so much by its transport as London. Yet the scale of influence of transport can be invisible to those who use it every day. The Museum's collections, together with its lively events and learning programme are a window into the past, present and future of how transport keeps London moving, working and growing, and makes life in our city better. The Museum's charity number is 1123122
London Transport Museum is supported by public funding from Arts Council England
Travel to London Transport Museum
Address: Covent Garden Piazza, WC2E 7BB
Walking: Use TfL's walking guides to help you plan your journey.
Visitors travelling by public transport must wear a face covering. The nearest stations to London Transport Museum are:
Underground: Covent Garden, Leicester Square, Charing Cross, Embankment, Holborn
National Rail: Charing Cross and Waterloo
Boat: Embankment or Westminster pier
Bus: Strand or Aldwych
Tickets for London Transport Museum
Adult tickets include free entry to enjoy the Museum for a whole year – kids go free!
Museum open daily from 10:00 to 18:00
Timed entry must be booked in advance online