Kynren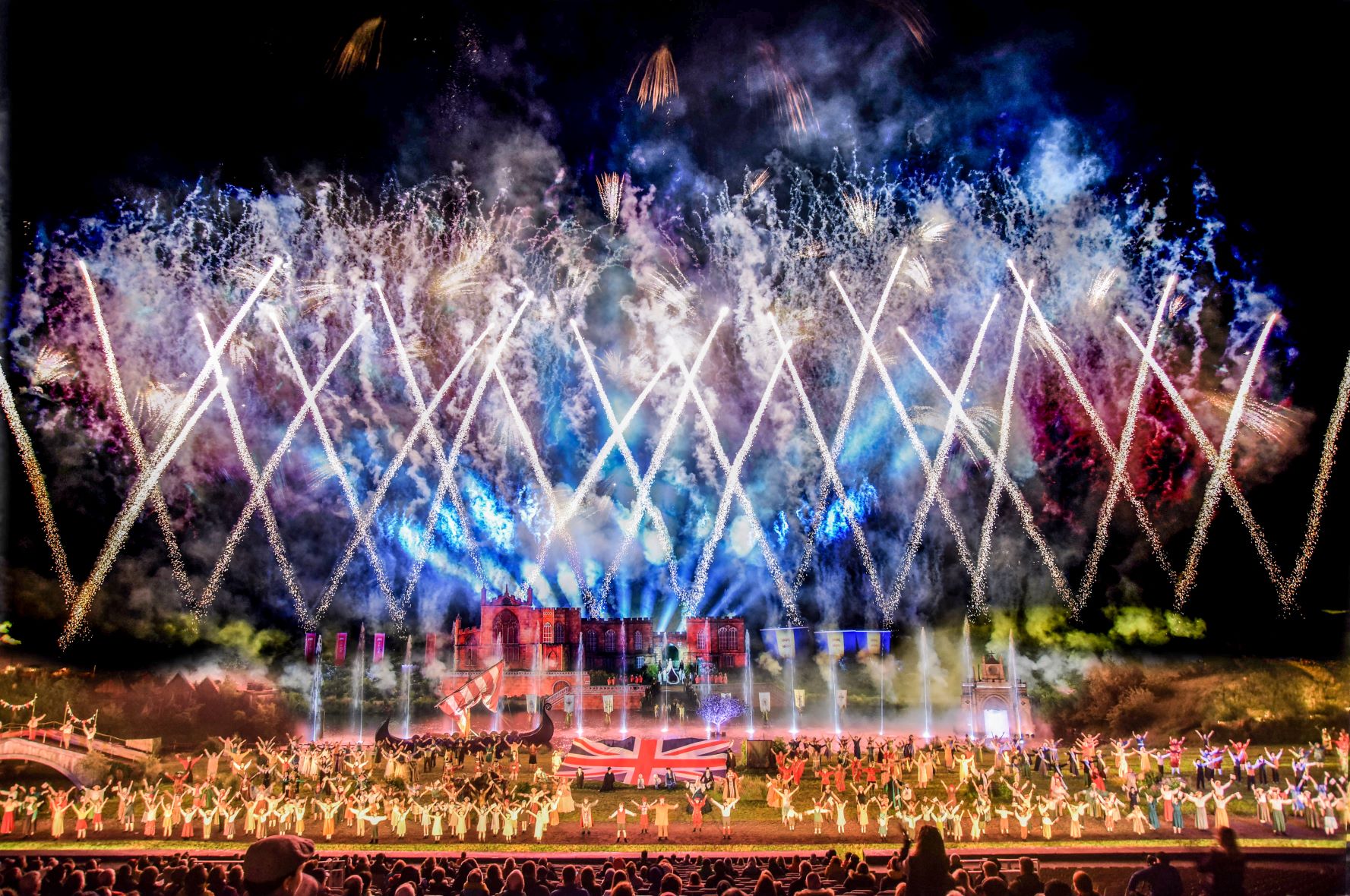 Two thousand years of history, myth and legend rush by in 90 minutes as we join young Arthur on his epic quest. Rebellions, wars, magic, majesty, celebration, and heartache are vividly portrayed in a dazzling outdoor-theatre spectacular.
From Boudicca's battles with the Romans to two world wars, via Vikings, Tudors, and the fate of Charles I, Kynren is a spellbinding, family-friendly experience delivering thrills, shocks, tears, laughs, goosebumps, and gasps on a truly cinematic scale.
Gates open two and a half hours before the start of each show and groups arriving in good time will be treated to a fantastic live jazz concert staged on the adjacent lake, whilst enjoying a bite to eat and drinks from the bar or food court or a three-course dining experience in the newly built Arches Hall.
Kynren takes place at 11Arches in Bishop Auckland, just 25 minutes from Durham and Darlington, and a town steeped in history spanning the Romans, generations of powerful Prince Bishops, horse-racing, and the Industrial Revolution.
Performance Days
Friday 3 June
Saturday 6 August
Saturday 13 August
Saturday 20 August
Saturday 27 August
Saturday 3 September
Saturday 10 September
Group Packages include:
Groups of 20 people or more can enjoy a discount of 10%
A complimentary ticket for coach drivers
Exclusive complimentary onsite coach parking, offered on a first-come first-served basis
A meet-and-greet service by one of our "Experience Team" members
Flexible payment options and 'Peace of Mind' payment plans available
Treat your group to Exclusive Dining in the spectacular new Arches Hall, situated at the heart of the venue, adjacent to the lake.
Landscaped backdrops and stunning views of Auckland Castle set the scene for pre-dinner drinks whilst enjoying a jazz concert on our exclusive outdoor lakeside terrace. Followed by a delicious 3-course menu, using locally sourced, seasonal produce with reserved seating in the Arches Hall.
Arches Hall dining experience is £54.95 per person and includes:
Fast track ticket check
Three-course meal
Tea or coffee to finish
Half a carafe of red or white wine per person
Kynren show guide and a Union Jack mini-flag
  Issued by Flamingo Marketing on behalf of 11Arches. Contact Debbie Beardall at debbie@flamingo-marketing.co.uk or call 01637 808220