Excursions 2021
January 25, 2021

-

January 30, 2021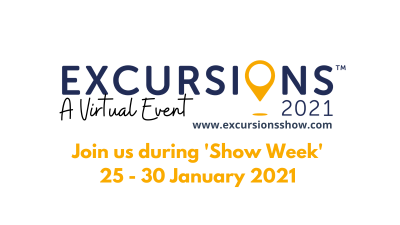 For the first time in 45 years, we are sad that we are unable to run a face-to-face show, but we know that you as group organisers and itinerary planners are keen to get out and about and do what you love most, as soon as restrictions allow, and it is safe.
However, the Excursions Team have been working hard behind the scenes to ensure we can keep you all connected and inspired, whilst remaining safe at home.
Join us from 25-30th January 2021 as we showcase all the exciting things on offer for your groups later in 2021 and beyond.
Sit back and enjoy FREE virtual familiarisation visits
Register for any of our 40-minute trips held via Zoom at 10.30 am and 1.30pm each day during show week.
Destination Experts will be joining us
Monday 25th January  –  Lucketts Travel Group | White Cliffs Country
Tuesday 26th January  –  Visit Greenwich, | Southampton,
Wednesday – 27th January  –  Shakespeare's England | Visit Richmond
Thursday 28th January  –  Visit Wiltshire | Portsmouth
Friday 29tH January  –  Windsor | Reading.
Click to view the full programme and register from now until the day.
These aren't just 'listen only' webinars.
Browse Exhibitor Profiles throughout the week at www.excursionsshow.com
Download brochures, watch videos, view contact details and more.
Make Enquiries and Request Postal Information
You can also request postal information and make online enquiries all in one place and our exhibitors will get back to you. This will be available during show week.
Download our Excursions 21 Show Directory
View it online today, or request a postal copy
Take Advantage of Show Offers
View these online during show week and see what is being offered. Don't worry they all have Covid-19 booking policies in place to protect your booking.
Read our e-newsletters
We will be sending newsletters throughout Show Week and beyond with information from our exhibitors, if you don't already receive the Tourism South East Newsletter you can subscribe today.
We really hope that Show Week will keep you inspired and connected ready for when we can all travel again!
Visit www.excursionsshow.com to find out more details
Elaine Colley​
Excursions Team
Tourism South East, Organisers of Excursions
Related Events