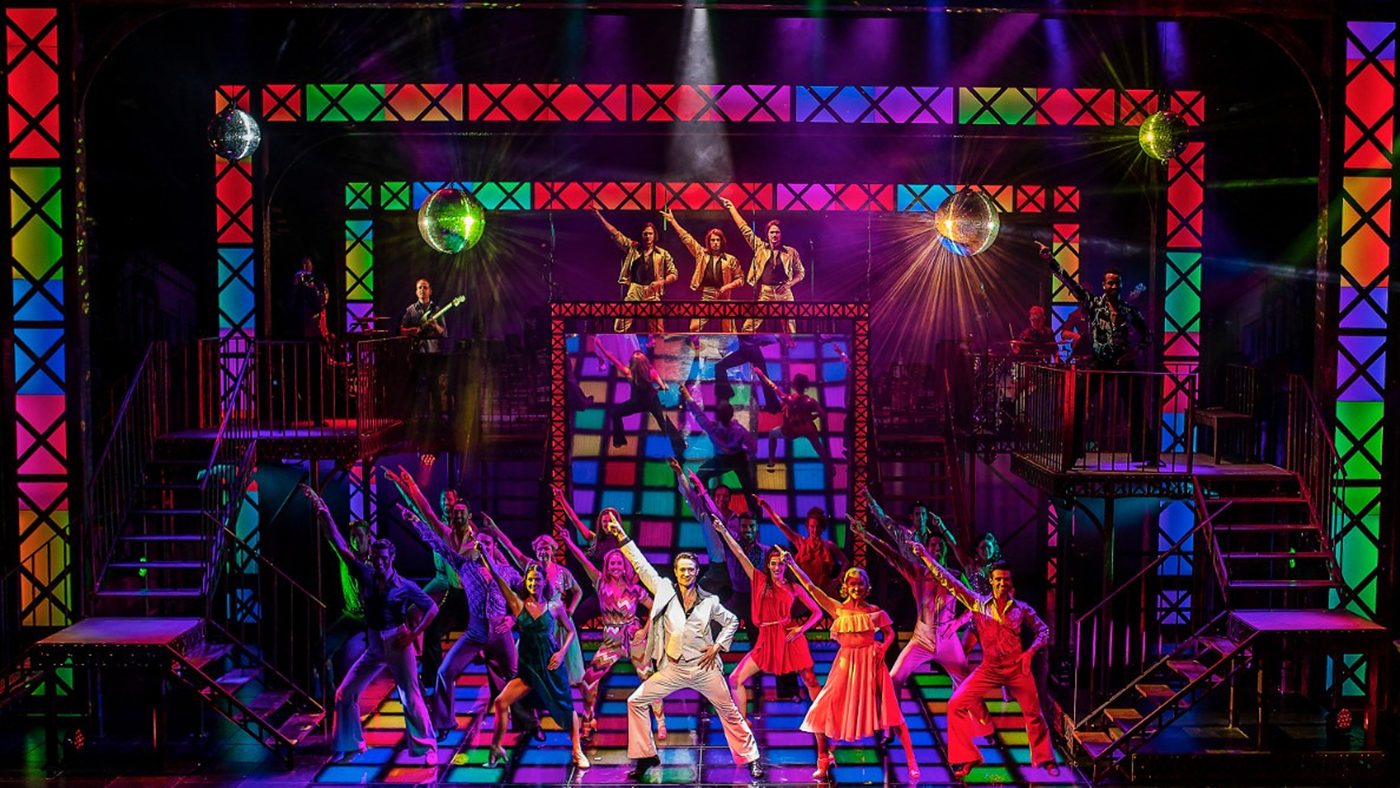 There's lots of theatrical activity both in London and around the UK. It is worrying, however, that mask-wearing is no longer mandatory. The smaller theatres are good at promoting mask-wearing and most of the audience obey.  Unfortunately, the large West End theatres don't always ensure that audiences comply with the recommendation to wear a mask.
SATURDAY NIGHT FEVER
****
(Peacock Theatre, London booking until 26 March 2022. Box office: 020 7863 8000)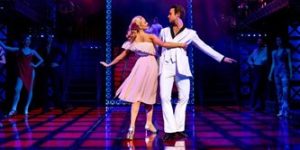 The big musical which has just opened is SATURDAY NIGHT FEVER).  You won't be disappointed to find this new musical largely follows the 1977 movie which turned John Travolta into a star.  The movie also brought about the popularity of disco dancing.
Tony Manero (Richard Winsor) is a young man, who still lives with his parents in Brooklyn, New York.  He works in a hardware shop near his home but dreads the thought of remaining there for years.  Tony's joy is dancing at the discotheque.  Here he excels and has no shortage of female admirers and partners.  However, when the opportunity to enter a competition arises, he manages to partner Stephanie (Olivia Fines), who is a fantastic dancer, too.  She is also very ambitious to get a better job in Manhattan where she works.  Stephanie and Tony form a beautiful dancing partnership, but she rejects his romantic advances.
There are two subplots. The first involves Tony's brother Frank (Mario Nicolaides) who has returned home announcing he has given up the priesthood, much to the disappointment of his parents. While Tony's young friend Bobby (Kevin O'Dwyer) is devastated to find his girlfriend is pregnant. As she refuses to get an abortion, he is being forced to marry her.
The film uses the Bee Gees song material.  The trio (portrayed by Jake Byrom, James Hudson and Oliver Thomson) are on stage at the back, accompanied by a lively band.
While Winsor is no Travolta – he lacks the star's charisma – he is a fabulous dancer and undertakes some exhilarating dances alone or with Fines, who sings well and moves even better. Bill Kenwright directs energetically.
The musical is not all light and frothy and there are issues of misogyny, abortion, suicide and even domestic abuse and racism to be seen.  This show is well-worth a visit with your group.
NEVER NOT ONCE
*****
(Park Theatre 90, London)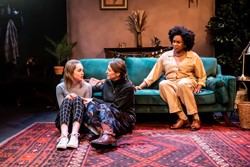 Just time to catch NEVER NOT ONCE at the Park Theatre 90, London.
When Eleanor (Meghan Martin) announces to her two mothers, Alison and Nadine that she wants to find her father, they – particularly Alison (Flora Montgomery), who gave birth to Eleanor – are very disturbed and don't want Eleanor to proceed.  Eleanor has never met her dad and, assisted by her boyfriend Rob (Gilbert Kyem Jnr, is now curious and is enxious to learn all about him.
Alison's partner, Nadine (Amanda Bright) tells Eleanor that she has heard Alison say the name Doug in her sleep and this helps Eleanor move forward.
Confrontations between Doug (Adrian Grove) and the others bring to the fore what really occurred between Alison and Doug, and the story of Eleanor's conception.
Many issues are brought up in Carey Crim' excellently written, intelligent play. It is very well directed by Katharine Farmer who keeps the audience guessing until the end.  A good set in the small performance space helps establish the background of the lesbian couple. Superbly acted by all, I can see the play getting further performances – perhaps at a different theatre.
Carlie Newman